Students Knowledge Put to the Test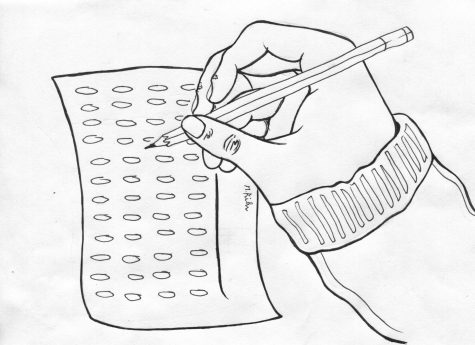 As the school year draws to a close, people are happier. The thought of summer and the prospect of no homework excites students and the thought of not having to grade essays and reports excites teachers. But before all of this occurs, some students have one more effort to make. This comes in the form of the Advanced Placement exams, which is the pinnacle of an AP course.
During the course of the year, students are constantly challenged during these classes. But it is worth it. By scoring well on these tests, a student is able to earn college credit for most colleges.
This year, the AP tests take place from May 2 to May 13. Each day has two sessions, a morning and an afternoon. On test day, students should bring several sharpened No. 2 pencils with erasers, pens with black or dark-blue ink, and their AP student pack. Some tests however, require additional materials. Students may not bring electronic equipment, unapproved aids (whiteout, mechanical pencils, books…), scratch paper, and food and drink among other things. To see a complete list of legal and illegal materials, please refer to the College Board website.
Upon completion, students will receive a score in July between one and five for their test with a five being the highest score.
These tests are not easy. In fact they are very difficult. These tests are a cumulative exam of anything learned in the AP class that was taken. They include conceptual knowledge, detail knowledge, and skills.
Alison Blickenstaff, Calculus AB teacher, said, "The hardest part [of AP testing] is knowing everything from all year and being able to apply many concepts to one question."
The tests are a timed environment. "You have to be able to read hard material and be able to interpret it thoroughly and write on any given topic and make argumentative writing," said Sarah Yoder, AP language teacher.
But that's not the worst of it. As there are many different AP courses, there are different styles of tests. A history test will be different from a math test which will be different from a language test. For many AP tests, you need to know background information about a question just to understand how to answer it. For example, in the AP art history test, not only do you need to know the art, the artist, and the time period, but you also need to know the historical events that may have influenced the artist. As Michael Heller, AP art history teacher, said, "You need to be good at making connections."
Going into these stressful timed tests, it is very important to be prepared. During the course of the class, teachers teach the knowledge that one would need on the exam. But it is important to study on your own as well.
Some AP tests are only one semester long and they are in the first semester. So students would go a term without being in the class. However, teachers often have optional review sessions that students may attend to refresh their memories. Also, teachers recommend studying the tests and quizzes that were given throughout the course.
"[Students should] revisit old texts, read summaries, and analyses. The more you read and practice, the more confident you will be" said Del Hayes, AP literature teacher.
A good resource that teachers recommend is the College Board which is the organization that creates these tests. Students can check out the website at http://apcentral.collegeboard.com/. Students can find practice questions, previous tests, and other resources on this website. Other resources that teachers recommend are textbooks that one can buy in a bookstore. These include the McGraw Hill books, the Princeton Review, Barron's, and Kaplan, among others.
Leading up to the test, Norman Crosby, AP United States history teacher and AP Seminar teacher recommends "organizing your studying." Students should review content and the skills to show them. But going into the test day, Crosby said the most important thing to do is study. "There is no magic potion. Just hard work. However, the night before, relax, sleep, and don't cram," he said.
"Students should know how to write. Knowing how to write well gives students a big leg up," said AP European history teacher, AP Macroeconomics, and AP Microeconomics teacher Nathan Kachur.
Science teacher Dr. Melissa Chang suggests "reviewing the AP practice tests and sleep well because it will be a long day," to prepare for the AP test day.
To all of the students taking the exams, best of luck.