Students Honor their Cultures at the Urbana Culture Fest
On Thursday March 21, Urbana High School hosted the annual Culture Fest during first and second block. Several students prepared outstanding presentations of their cultures. Some of the students brought in their culture's clothing and others brought traditional food. The culture fest was filled with diverse cultures and unique presentations created by students. Many Urbana students attended the culture fest—it was packed to the point where I had trouble breathing.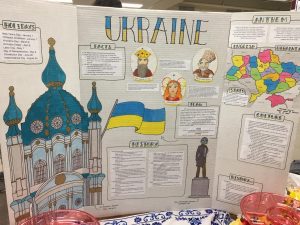 There were so many countries to read and learn about (not to mention a lot of food) that I had trouble choosing which one to look at first. Some of the countries and regions in culture fest were: Germany, Ghana, Sierra Leone, France, Scotland, Pakistan, Bangladesh, Hong-Kong, El Salvador, Bolivia, Dominican Republic, Ukraine, Italy, Lumbee Tribe, and Mexico.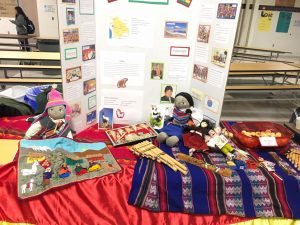 Sophia Plaschke spoke of the Lumbee Tribe, her culture: "It is located in North Carolina. Every year we have some sort of a homecoming; a Pow-Wow. It's like a family gathering. Many colorful photos of the tribe were hung on the booth.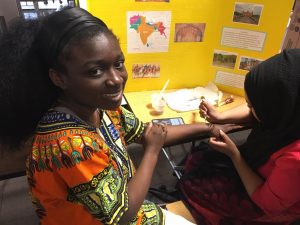 The Ghana booth was spectacularly decorated. There was food and beautiful traditional clothing and handbags. I talked to Maureen Mensah and Nana Acheampong, who told me about Ghana's culture and history. "We have many languages, but Akan is the most popular one." Maureen explained. "Ghana gained independence in 1957, about 62 years ago. Ghana is the first country in Africa to be free from imperialism and colonization." Nana said. The other students also explained about their cultures. I had never learned so much in so little time. The Scotland booth handed out shortbread, the France booth had macarons, and the Pakistan and Bangladesh booth drew henna tattoos. I joined the many of the students who were crowded around the Pakistan and Bangladesh boothsto get their henna tattoos. Every one of the foods tasted amazing—especially the food from the Sierra Leone booth. The culture fest was an amazing experience and all the students who came left with new knowledge and a full stomach.