Player of the Week: Kyle Howes
"Fight through adversity. If you're in an adverse situation, just keep your head up." – Kyle Howes
The Urbana Hawks football team has had a victorious season so far, with a record of 3-0, winning against Glenelg last week, the score being 49-42. The team consists of 46 players that each help contribute to the success and growth of the football program at Urbana High School.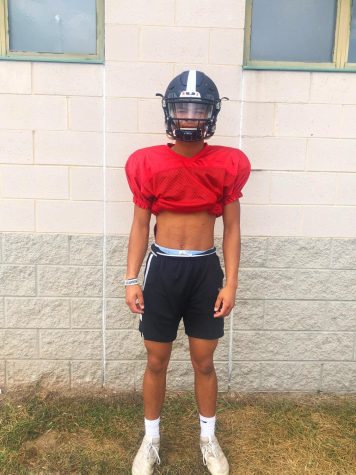 With 305 passing yards, 96 rushing yards, 2 touchdowns, and 4 passing touchdowns from last Friday's game only, Kyle Howes, a junior starting quarterback, is player of the week.
Kyle Howes has been a running back, corner, kick returner, punter, and safety in the past 10 years that he's been playing football. When entering football at Urbana High School, Howes had no idea that he would be a starting quarterback. Due to him being on the varsity team for three years, Howes has watched the football program grow right before his eyes. He said that the atmosphere has grown a lot since his freshman year, including the leadership. Howes explained that this year "people actually listen to the leaders of the team and do what they say. Our leaders today are very positive motivators and good leaders." One of those leaders being Dominic Gulli, a senior linebacker, who Howes said inspires him to be a better player. 
Howes has set a goal of 2,000 passing yards and 1,000 rushing yards for this season, which he is well on his way to. Last Friday in the second half of the game against Glenelg, Howes ran a 77-yard touchdown. He described the play stating that he "just saw green grass." Howes states that his performance is one he is extremely proud of, a performance that helped name him Offensive Player of The Week by DMV Football Recruits on Instagram. So far this season, Howes has 625 passing yards and 149 rushing yards.
Howes has the ambition to play football every day due to the fact that he has "no stress," and he loves "the game and the people I play with." He gives football credit for making him more mature, a better person, and giving him friends that have become "a second family."  He wants those who attend the games to know that he and the team "always think we're going to win and going to give our best." When asked for words of wisdom, Howes spoke confidently saying, "Fight through adversity. If you're in an adverse situation, just keep your head up." 
The Urbana Hawks will be playing against Broad Run in Ashburn, Virginia on Saturday at 1:00 pm.