Featured Artist: Sarah Blocher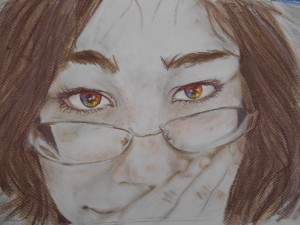 Sarah Blocher is 17 and in her Senior year at Urbana High school.  In every school year Sarah has been heavily involved in the arts and this year is no exception.  She has participated in the plays and musicals, but her true love is in creating artwork.  She has participated in art shows were she has even placed in the top three.  Her art pieces have caught everyone's attention.
Hawkeye Reporter: When did you first start to get into art?
Sarah Blocher: It was about 6th grade; all of a sudden I just fell in love with coloring.  I started doodling wherever I could and going to summer camps focused all around art.
HR: What is your favorite medium to work with and why?
SB: Water colors. I can get such a large range in colors and tones.  It gives my finished product such a whimsical effect, I love it.
HR: What art classes have you taken and which one has been your favorite?
SB: I have taken drawing and painting 1, 2, and 3.  I am also currently taking AP studio art.  I think AP studio art is probably going to be one of my favorite art classes.  It is going to be a lot of work but I cannot wait to see how I will improve and what I will create this year.
HR: Out of all the pieces you have created, what has been your most memorable and for what reason?
SB: Definitely my Landon House water color painting that I did for the John J. Markell Art Contest.  It was hard to do but I think it is one of my best works to date.
HR: What is your favorite style to work in when you are creating and art piece?
SB: Realism.  It gives me the chance to stay very true to my subject matter while still giving the finished product my own little creative flare.
HR: When you have completed high school, do you still plan to pursue art?  If so where would be your dream job?
SB: Yes, I plan to major in studio art and pursue illustration for my graduate degree.  My dream job would be Disney, they are so involved with storytelling and illustrating that I think it would be terrific to work there.
HR: What inspires you to create art?
SB: Honestly, it's a lot of personal satisfaction.  I am always really proud to see what I have created on paper.  Looking at landscape and nature in general also inspires me to draw a lot.
Whether on the stage or in the sketchbook, Sarah continues to do art wherever she can.  "I love making people smile," she says, "that in itself is enough to make me want to do art all of the time."
Leave a Comment