Featured Actor: Maddie Weigelt
More stories from Samantha Kellogg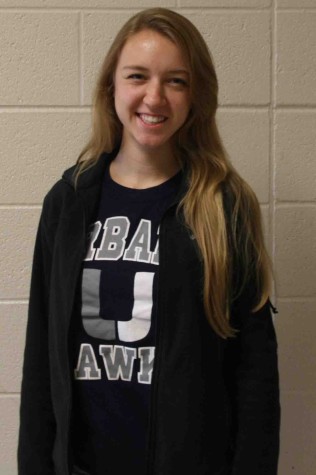 The enjoyments of being able to tell a story and make people laugh are the reasons for 12th grader Maddie Weigelt's love of acting. From being the Old Star in her 4th  grade musical about planets to being Alice in last year's play of Alice and Wonderland, theatre has been a part her for a long time.
Weigelt has been in many plays over the years like Curtains, Into the Woods, and Guys and Dolls. Her greatest acting achievement was being Adelaide, a lead in the musical Guys and Dolls. Weigelt had admired the character after studying the role in other performance character in other performances of the musical.
In order to get herself into her characters and give the best performance possible she said, "You just have to think of everything from the character's perspective… You have to think about what your character would do in a certain scenario and think about their background." Her advice for anyone who has an interest in theatre is not to just read the lines; really try to develop the character. She also said, "Don't hold back, you can really let loose to the character… because if you're into the character then everyone is going to believe the character."
As most people would figure, even if you have been acting for a long period of time, there are still fears when it comes to getting up on stage and performing in front of hundreds of people. For her, the scariest part of acting would be never knowing what could happen during a performance or even just forgetting something in the middle of a performance. Regardless of this fear, she still gets out on stage and throws herself in her role to please the audience.
Weigelt is also the president of our Drama Club, which creates a lot of responsibility for this 12th grader. She is in charge of controlling the meetings held, bringing new ideas to the department, trying to get more students interested even if acting is not their interest and make everyone enjoy being a part of a production. She enjoys it, though, because of all the ideas she gets to create and bring alive.
She would like to extend her acting into a full time career but would also like to write, produce, or direct because it is a unique and amazing opportunity to create a character "from start to finish." She would love to be in a TV show and movies, preferably related to comedy.
Maybe one day we'll see her again on the big screen, so make sure you remember her name.
Leave a Comment