Music, dance, and color at Urbana High School
 Urbana High School hosted a KIDA regional competition for colorguard and percussion this past Saturday, March 5th. 
   Colorguard is a sport where performers use flags, rifles, and sabres to perform choreographed routines to soundtracks and music. There is fall guard and winter guard. In the fall the Colorguard will perform with the marching band to add elements of energy to the performance; while in the winter the Colorguard performs indoors in a gymnasium, separate from the marching band. 
   Colorguard is a sport that involves dedication and skill but also forms connections between members. Mai Muragaki, a current captain of the Urbana Color Guard, told us that a memorable moment from her guard career was, "In freshman year when the guard got off for a dinner or lunch break during a camp week, and we were all so exhausted that we all just wanted to take a nap. And at that point there was no covid, we would do these things called "cuddle puddles" where we would all just lay in this big pile and lay on each other. We all ended up falling asleep like that."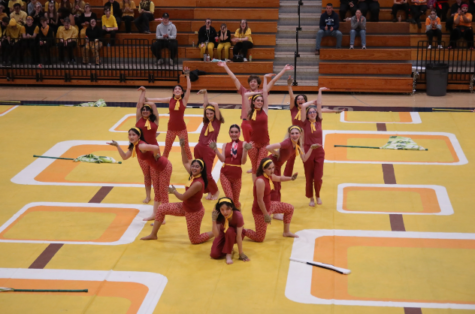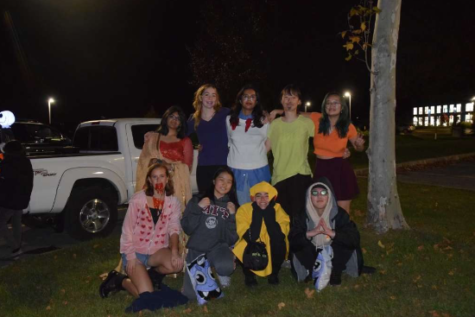 When Mai mentions camp week, she's referring to band camp, which is during fall guard. These camps last from one to two weeks and are every day, excluding weekends, from 9-9. 
   "Many Winter Guard teams will travel and compete against other teams. They may do this regionally against other schools who have teams in their area, or they may compete on a national level." mentions an article by top music tips. The Urbana winter guard also typically will practice from 5:30-8:30 every Tuesday and Thursday.
   This past Saturday, however, various Winterguards from Maryland performed, including junior guards from middle schools, and several high school guards.
   Indoor percussion is marching band, only it's indoor. It includes pit, which is stationary percussion instruments positioned along the front, like marimba, xylophone, gongs, electric piano, etc. And it includes battery, which is worn on an individual and consists of snares, tenors, bass drums, cymbals, etc.   
   Indoor percussion is similar to indoor guard, or winterguard in the sense that they practice for three hours twice a week, and they participate in fall marching band. Indoor percussion ensembles perform their music after putting in hours of commitment, "If the group is a complete indoor ensemble, the music is rich and rhythmic with an array of tones and melodies." (musicalexpert.org)  The group also puts on a story-line that matches the music they choose to play, accompanied with aspects of dance.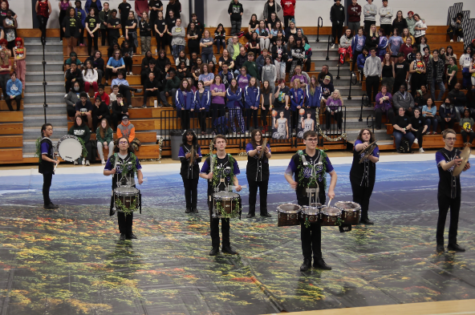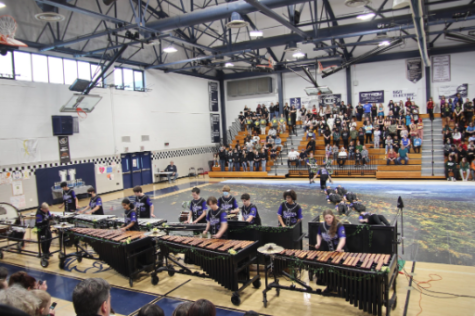 "When I think of my experience in percussion, I always think of the goofy rituals and inside jokes that just randomly pop up into each of our minds at the same time. Many have been passed down since before I was here, but when I was a freshman, a new drumline instructor arrived that we all took a quick liking to. None of us knew his birthday but we heard it was coming up so what we decided to do was just congratulate him every day. And we never stopped. And i'll never forget the man, I love him to death. So Tom, if somehow you get a hold of this, thank you, we love you, and happy birthday." A quote from Chris, a drumline senior.
If you missed these shows then come watch next years home show for guard and percussion, or watch the fall marching band home show.
You can also follow percussion's Instagram, @urbanapercussion, or follow the Urbana Colorguard, @urbana_guard.