Coach Mencarini Shows Support For JDRF
Football Game Raises Awareness for Type 1 Diabetes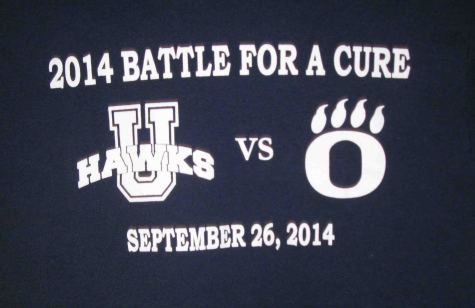 After Head Football Coach Dave Mencarini's oldest daughter Courtney was diagnosed with Type 1 Diabetes back in 2010, it has become his mission to boost awareness for the Juvenile Diabetes Research Foundation (JDRF) and Type 1 Diabetes.
As part of this mission, Mencarini made our football game against Oakdale on Friday September 26 the 2014 Battle for a Cure game. To raise money for Juvenile Diabetes Research Foundation, Mencarini had created t-shirts to be sold to students and staff and also their families with 100% of all money earned going to the foundation.
These shirts were sold the entire week leading up to the game. The t-shirts had the quote, "Two rivals battling to find a cure for Type 1 Diabetes" in our school colors and they were $12.
Mencarini said, "I think it is fitting that our two communities participate in this because of the natural rivalry but also the fact that Type 1 Diabetes impacts both of our programs."
Oakdale's assistant coach Andy Hirshom also has a son who has Type 1. It was a great game that brought two competing teams together to support a great organization like the JDRF.
Type 1 Diabetes is when a person's pancreas stops producing insulin cells because they have been destroyed from the person's immune system. These cells are how we get energy from the food we eat. In order to stay alive if you have Type 1 Diabetes you have to have to take daily injections of insulin and keep a balanced diet and exercise routine.
Sophomore Jalyn Blessing, a member of the Urbana High School dance company, was diagnosed with Type 1 Diabetes 4 years ago, 3 days before she started middle school. "When it comes to exercising, I dance every day for usually about 4 hours. Basically, when I exercise, I have to test my blood sugar every hour to hour and a half." Blessing said. When it comes to how she manages her diet, she has to pay specific attention to how many carbohydrates are in the food.
This disease affects both children and adults, and even though it is not yet sure how a person develops diabetes, it is believed that environment and genetics are some of the causes. Type 1 Diabetes creates a very set routine for those who suffer with it, which has to be managed carefully and completely in order to minimize the health risk.
There is no cure for this disease yet, and that's exactly what JDRF is trying to achieve with their organization. JDRF, which was created by people dealing with a personal connection to this disease, is "the leading global organization funding type 1 diabetes (T1D) research".  They have events throughout the year to help fund money for research in their 100+ locations worldwide.
If you are interested in donating to JDRF or want to find out ways to get involved visit their official website http://jdrf.org/