New Jobs For Veteran Hawks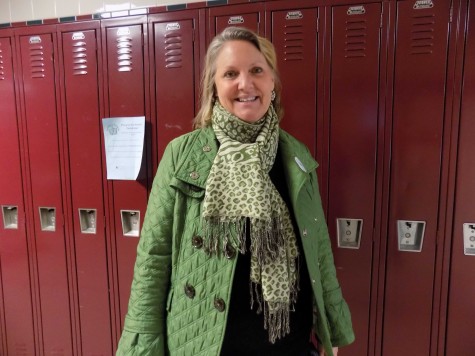 When Jay Berno retired earlier this year, he had a vision. He planned that when he retired, staff members at Urbana High School would move around to fill in jobs created by his absence, thus providing as little disruption as possible for students. As Michael Chavez became the acting Principal, Helen Golibart has moved up to fill in the acting Assistant Principal position and Jessica McBroom has moved up to fill the IB coordinator position.
Joining Urbana in 1996, Helen Golibart started as the Department Chair of Special Education; she began teaching co taught history with Norman Crosby. In 2002, Golibart began working in the International Baccalaureate Program. In her fourteen years as the IB coordinator, Golibart said, "I will miss the daily interaction and strong relationships that I was able to build with a smaller group of students [and] being in the classroom."
But as old opportunities come to an end, new ones begin. Filling this new position as Assistant Principal, Golibart looks forward to the new opportunities the job has to offer. "You walk in and it is never a set schedule. You come with a plan but you have to evolve, adjust, and be flexible based on the needs of the community," Golibart said. She likes this kind of responsibility because she is "not a sit still kinda girl."
However, being the acting Assistant Principal demands certain skills. Golibart is a relationship builder, she is flexible, and she understands the working process of the school. She knows about resources for the students and has access to them.
This new position offers new challenges to be faced but also new opportunity. Golibart said, "My new responsibility has given [an] opportunity to work with a broader variety of families and students as well as staff."
Golibart said, "The best part of Urbana is the unity of a common goal of excellence. The commitment and dedication from staff, the community, and students to work towards high expectations and getting better." Golibart believes that the students inspire each other and the staff to be better.
However, nothing can ever be perfect. UHS can still improve. Golibart said, "I hope every student embraces the core four. Respect. Unity. Integrity. Pride." Golibart said that she wants "students to feel connected and have positive relations with each other, coaches, and staff. And to reach their full potential." After all, high school is about helping all students be competitive globally and being college and career ready.
Filling in the IB Coordinator position is former media specialist, Jessica McBroom. She has worked at Urbana for fifteen years. During McBroom's education, her favorite subject was biology and chemistry. But during college at Indiana University of Pennsylvania, she changed her major from chemistry to political science and history due to a bad grade in chemistry.
"I was a chemistry major and I got a B. So I dropped it like a bad habit," said McBroom.
Upon entering Urbana, McBroom taught social studies for six years until she became the school librarian. Now, transitioning into the IB coordinator, McBroom said that her job is changing. "I'm involved directly with students. I have a group of ninth through twelfth graders and a group of the little rising freshmen that I work with. So instead of the whole school population, I work with a smaller student audience. It is more individual student oriented," McBroom said.
Leaving the librarian position, McBroom will miss parts of her job. "I will miss being able to say, 'I'm reading this fiction book'. I will miss reading for fun as my job. I will also miss working with a wider student audience," McBroom said.
However, looking to the new coordinating position, McBroom looks forward to having a direct impact on students. "I like to see where these guys are in four to five years. I want to see what they can make of themselves," said McBroom.
McBroom feels that she has personality traits that will help her in her new job. "I am personable. I want what is best for kids in education. I care. [Also] I communicate well with the students, parents and staff," McBroom said.
McBroom's favorite part of Urbana High School is that it "has a community feel. The students and staff are really good. The building gets along most of the time. It is a delightful place to be."