Peace of Mind on Graduation Night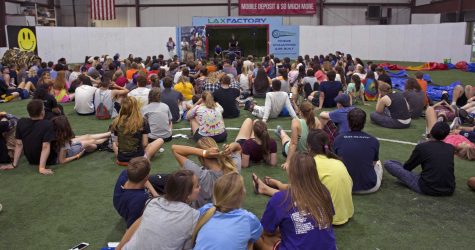 Safe and Sane is an event put on by Parents for the graduating class of Urbana High School. Safe and Sane is an all-night event held the evening of graduation. Which is to provide the graduates an alcohol and drug free environment where they can celebrate this milestone in their life.  The President of Safe and Sane for the graduating class of 2017, Clair Mixon, had much to say about the upcoming event this year. Mixon said, "I had a junior daughter last year and it was necessary for parents who were NOT senior parents to help set up due to the fact Urbana High School had a late time slot for graduation. Families of students graduating were at the actual graduation while the event was being set up so it was imperative for underclass parents to help set up or the event could not have happened."
This year, Mixon is trying her best to lead the small group of volunteers they have so far for this year's Safe and Sane. At the first Safe and Sane meeting on September 7th, there were twelve parents, three of whom were parents of seniors and the other nine were underclassmen's parents. Mixon said, "That's not nearly enough! This is a parent and volunteer run based group. It takes tons of help to earn enough money to run this event."
Mixon knows of multiple families who don't have students attending the school that are coming back to help because they were so grateful for the help last year. "For the many people that think Safe and Sane is a prom related event, it's not. It's only available for the graduating class of Urbana," said Mixon.
An upcoming fundraiser to help support Safe and Sane will be held at The Great Frederick Fair, where they will be running the merchandise booth. The dates for this event are September 16th through September 24th. Mixon notes, "The Committee needs volunteers to help out."
As for the actual event after graduation, students can register before the end of December for thirty-five dollars. As the event gets closer, the price for registration increases. Safe and Sane holds a cash raffle every fall. The committee will be mailing a book of tickets to every student at Urbana High School. One ticket is five dollars and a book of six tickets is twenty five dollars. These tickets will be sold at home football games and most events in the auditorium like concerts, drama productions, and dances. There is then a drawing on December 20th, the night of the winter concert. There will be three winners. One winner will win one thousand dollars, one will win five hundred dollars, and the last winner will win two hundred and fifty dollars. Mixon said, "It was really fun to notify the winners since the money comes right before the Christmas holiday."
Last year at Safe and Sane the committee purchased over ten thousand dollars' worth of amazing items for students to win. Some of these gifts included televisions, gaming systems, headsets, apple watches, Go Pro cameras, bicycles, jewelry, college dorm necessities, and much more. Mixon said, "I am very excited to go do the shopping again and see what other amazing gifts we can get for our seniors."
In the past years, Stups Auto has donated a used car. "Unfortunately last year they didn't donate a car. We hope to pursue that this year but it is a bit up in the air. If you know anyone that has a connection to a new or used car dealership, tell them to contact me;" said Mixon.
The committee wants everyone to know that they are very open for ideas and student involvement in the decision making on what kinds of amusements and prizes will be available at the 2017 Safe and Sane.
Mixon's last words were "Graduation night is statistically a very dangerous night for a student because of the dangers of driving drunk or under the influence of drugs. Our goal is to have an amazing time in an alcohol and drug free environment. Our community is safer when our students are safe."