UHS Proudly Hosts Danish Students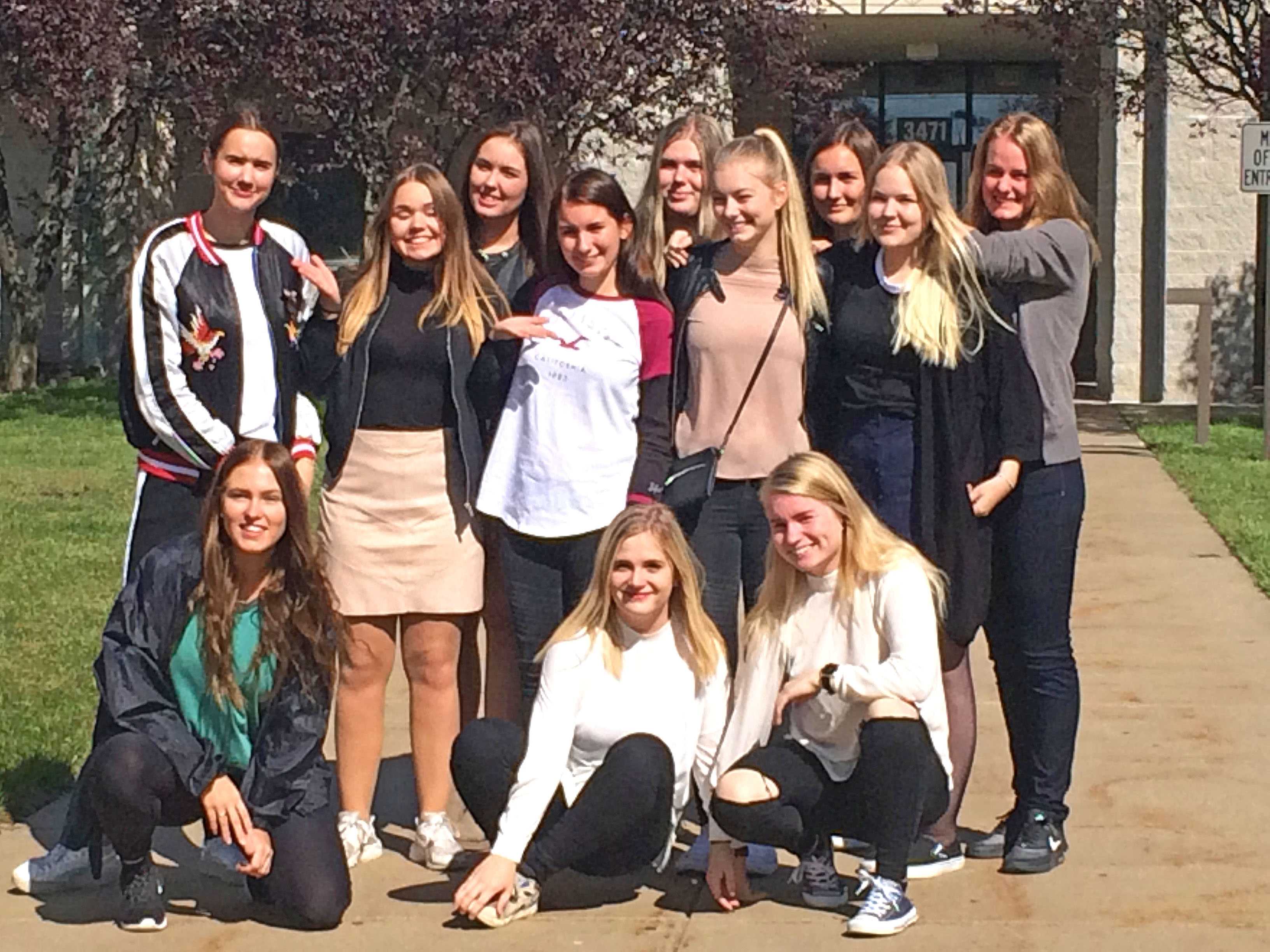 Jessica McBroom
The Hawks' Nest was yet again visited by Danish students. Twelve teenage students from Sønderborg, Denmark visited from October 7 to October 12, staying with International Baccalaureate students as host families.
 According to one of the Danish teenagers, Gabija Juskaite, 19, she and her classmates were on this trip to America because they are taking English language classes on A Level, the highest academic level for secondary school in Denmark. The students were required to travel to an English speaking country due to their A Level class.
 During their stay in Urbana, the Danish students presented in several classes during the week; they spoke about major Danish holidays and traditions, cultural food, and icons.
 Two of the Danish students, Annika Polzin and Sofie Werth Hansen, spoke about different holidays. Some were similar to American holidays, like Easter and confirmation. However, even these holidays included Danish traditions within themselves. On Easter in Denmark, they hide påskeæg, or chocolate Easter eggs, and write gækkebreve, decorated letters. The Danish have unique holidays including Fastelavn (carnival) and Sankt Hans. Fastelavn is seven weeks before Easter and is generally celebrated with the children dressing in costumes and collecting candy for the Fastelavn feast. Sankt Hans is a traditional midsummer holiday with a bonfire.
 In Polzin and Werth Hansen's presentation, they also briefly explained a typical school day. Werth Hansen takes public transportation to her school, 30 minutes away, then attends her three, 90 minute classes with 20 minute breaks in between. Polzin, who lives directly in Sønderborg, said that she lives near an old military base that was converted into a Syrian refugee camp. Syrians are fleeing their civil war-ridden country to Northern European countries including Denmark. Polzin said that the Danish population are mostly against this, but they aren't turning away the refugees.
 Despite this situation, according to the United Nations Sustainable Development Solutions Network, Denmark is ranked as the happiest country in the entire world. Polzin and Werth Hansen were asked why this is and their first response was free healthcare and education. The Danes added that there is little crime in Denmark and their gun laws are extremely strict; only special groups of people like hunters are eligible for licenses, not the general public.
 Other presentations included typical Danish Christmas traditions, traditional food, and windmills, an icon for Scandinavian culture.
 Outside of school, the Danish students were given tours of the Frederick and Baltimore area. IB Senior Sabrina Sorace hosted Juskaite, making the most out of Juskaite's short time in Maryland.
Sorace took Juskaite to Downtown Frederick to I Made This, a pottery studio, and to Pretzel & Pizza Creations. Sorace said, "I took her around Frederick to Walmart and Target, then I went to Baltimore to the aquarium and then to the Columbia mall and FSK mall."
Sorace stated that the most shocking fact about hosting Juskaite was that she spoke 5 different languages: Danish, English, German, Spanish, and Lithuanian, her mother language.
 According to Polzin, students in Denmark begin to learn English in the 3rd grade and German in the 7th grade. Later in their school years, they begin to learn another language of their choice, like Spanish or French.
 Juskaite explained that what shocked her most about America were the cars, buildings, and number of people. "Everyone goes to school in these, like, chill clothes, like pajamas… they would never do that in Denmark, never," Juskaite said. Some differences between America and Denmark that Juskaite listed were "the fact that you [USA] drive when you are 16" and that legally, teenagers "do not drink alcohol". Juskaite mentioned another striking difference. "I think in Denmark, even if… your parents aren't rich, you can do anything and be anything," she said. Juskaite explained that she believed that in America it is more difficult to follow yours dreams if you aren't born into wealth, which isn't the case in Denmark.
 Juskaite finished saying that if an American student were to visit Denmark, they should visit Copenhagen, the capital of Denmark, where The Little Mermaid Statue is located. "You need to go to Odense. That's where our most popular writer [was] born… Hans Christian Andersen," Juskaite said.