How do students and teachers feel about the crowded hallways?
Overcrowding is the presence of more people or things in a space than is comfortable,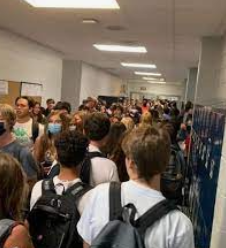 or safe. "Overall, about one-quarter (26 percent) of public schools had enrollments within 5 percent of the capacity of their permanent instructional buildings and space." ( Overcrowding, Condition of America)  September 2017, Urbana High School  was over 100% capacity. "Most high schools will have slower growth between 2022 and 2027."(Inventory and Evaluation of School Facilities) Schools are growing more and more each year. 
When I asked teachers about how we can make the hallways less crowded in between classes. "I think having people go up one way and down the other way at the main stairway. Giving extended time by another minute in the hallway. With our school growing, giving people that extra time." (Mrs. LaHouse)  We could also remove the lockers that are in the hallway but that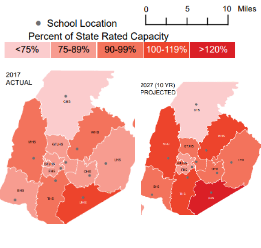 would cost a lot of money just to remove lockers. "In theory if we can do a staggered schedule like some classes get out at a certain time and other classes get on later or earlier." (Mrs. H. Johnson)  Having a staggered schedule can really help because it can allow students to get on time to class.