The Expression Recital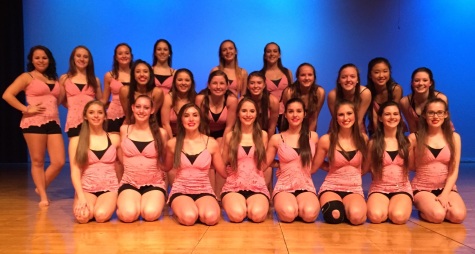 Every year, the Urbana High School dance department puts on the Expressions Recital; an annual recital that occurs in the fall and is dedicated to Christine Laroi, a fellow dancer and student who passed away in 2004 from a tragic car accident. In her memory, the department raises money for the Christine LaRoi Scholarship Fund that is given each year to an Urbana High senior wishing to pursue the arts or education in college.
This year, the recital took place on Wednesday, November 12th at 7pm. Stephanie Weigelt, dance teacher at Urbana High said, "It was a lovely evening as usual. It gave my classes a chance to perform for the first time this semester, carried on the tradition in Christine's honor, and helped raise money for a worthy cause."
Performing in this year's production were the fall semester classes: Dance 1, Dance 2, Dance 3, and Urbana High's Dance Company. As tradition, the dance company, along with company alumni, performed the finale Tiny Dancer in honor of Christine, all wearing pink, Christine's favorite color. Mrs. Weigelt said, "We like including dance company alumni in Tiny Dancer and it has been special watching each year's dance company pass the dance down to the next group. It kind of makes them feel like they are part of a bigger family that loves dance as much as Christine did."
This year's recital included fourteen dances in total from both classes and four solos all performed by students from Dance 2. The show also featured a troupe of six dancers performing a cute little number called Dear Future Husband. The recital began with the dance company performing Smile which showed tribute to several artistic legends such as Elvis Presley, Tony Bennett, Michael Buble, Ella Fitzgerald, and Frank Sinatra. Mrs. Weigelt especially loved this dance and said, "It was a style that I have not done in a while but which I love."
The show featured a very diverse range of dances from Dance 2's contemporary Girls Just Wanna, a dance that highlights on the world of a hard-working woman, to Dance 1's hip hop Zombie Attack which featured many effects such as strobe lights and a fog machine. Other dances were a little more creative; for example, Dance 3's Beats Gone Bad, a dance that showed a pair of headphones that wouldn't stop playing music and would control all those that heard the music. Mrs. Weigelt said that it made her laugh and she was excited for the audience to see it.
Overall, the Expressions Recital was a success once again and will continue to be so as the years go by. Make sure to catch it next fall if you missed it this year.