Featured Athlete: Madison Lewis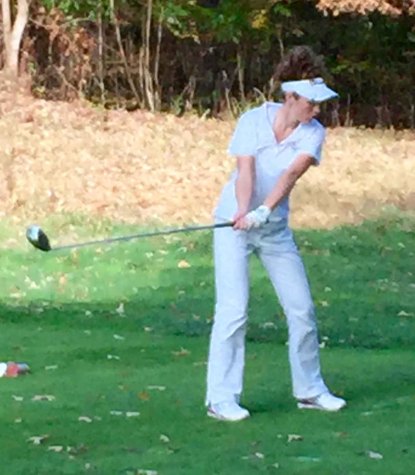 Madison Lewis, junior, has played on the golf team since her freshmen year. Although she has lived on a golf course since she was a kid, Lewis only became interested in playing golf three years ago, after meeting assistant golf coach Joe Cook.
Originally, Lewis was districted to attend Linganore High School, however in eighth grade she became interested in the IB Program at Urbana and decided to apply. Shortly after making her final decision to enroll in the IB Program, she met Joe Cook, assistant coach of the golf team. After speaking with him, Lewis became inspired to pick up golf.
Spring before freshmen year, Lewis attended a golf program at Rattlewood Golf Course for prospective golfers. Here she was able to learn from the Urbana coaches, and practice alongside of her future teammates.
In the fall, tryouts were held for the team, and Lewis was one of four girls who made it. That year, Lewis surpassed all expectations, shooting low scores in almost every round she played, and even winning counties as an individual in the girls' category.
The following year, Lewis was one of only a few returning players, due to the loss of many seniors. "It's hard losing some of our top players every year. It's important that the new players step up and fill their shoes," said Lewis. Though the team had only one senior, and was largely made up of underclassmen, they continued to succeed during the regular season and won districts and counties.
As a sophomore, Lewis was unable to defend her county champion title, losing by only one stroke, but her score at districts still qualified her for states. "States was very difficult. As a team we didn't play as well as we had hoped, and the weather conditions challenged us a lot. There were frost delays, and even when we were playing it was very cold and wet," said Lewis.
This season, Lewis has been one of the go-to players during regular season matches. She has been able to consistently shoot low scores under pressure, her lowest being even par; 36. Lewis was able to reclaim her county title along with qualifying for the third year in a row for the state match.
"I hope we will play better at states this year, than we have previously, I think we are more prepared for the conditions; I believe the outcome will be closer to what we are expecting," said Lewis.
Other than the success of the team, Lewis enjoyed the time she got to spend off the course with her team. "I think what was different this year was the team bond, even though we have a lot of new and young players we are all good friends.
It makes it easier to have fun and be encouraging while playing together," she said.
Lewis is looking forward to her senior season, and has high expectations for herself. "I really hope that senior year I can win counties again, and also districts, but I mainly want to continue to shoot low scores," said Lewis.
Though she has more than a year to go, Lewis is already talking about playing golf in college. With the way she has been playing, college golf doesn't seem that far out of reach. For now however, Lewis wants to keep her focus on high school golf, hoping to lead her team to one last successful year.