Ann Eickelberg, New Urbana Girls Lacrosse Coach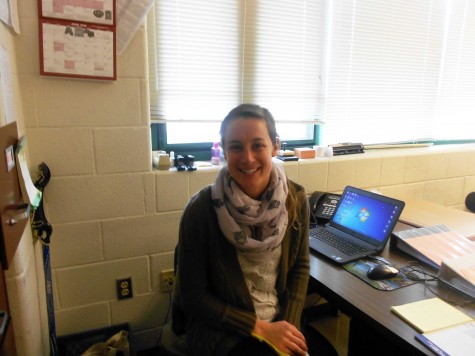 From Long Island, New York to Tanzania, Africa, teacher Ann Eickelberg has explored enticing parts of the world, but she is content to have landed at Urbana High School this year, teaching algebra 2 and precalculus as well as filling the position of head coach for the girls' varsity lacrosse team.
Growing up in Long Island, Eickelberg spent most of her days as a full time club soccer athlete and a high school student. Her brother began to show her how to play lacrosse and soon Eickelberg was all for it, quitting club soccer and pursuing her interest in lacrosse.
Although she continued her interest in lacrosse throughout high school and college Eickelberg began her first three years at Washington College as a pre-med major. However, that all changed when she took an eye-opening mathematics class with an inspiring college professor, Louise Amick. Due to that course, Eickelberg later graduated from Washington College with a major in mathematics and a minor in education.
Her interest in education led the way to Eickelberg's fully funded life changing trip to Tanzania, Africa.
"I wanted to make an impact," Eickelberg said, recounting her reasoning for the trip. She had planned to help educate the children and people there, but she was absolutely amazed by the knowledge many of the kids and adults already possessed. Eickelberg remembers the lack of school materials and resources the children had at their schools, something she thinks many people take for granted. Though her original goal was to make an impact there, the Tanzanian people ended up making a greater impact on her.
Though Tanzania was beautiful and a pivotal experience for Eickelberg, she has found a happy home at Urbana High School.
"The school spirit is almost overwhelming," Eickelberg said when asked what her favorite thing about the Urbana student body is. She goes on to say she is proud to be at Urbana and that here she gains great coworkers and a respected environment.
However, what she is most excited for is lacrosse season. Eickelberg has already noted that the girls' lacrosse team has great fitness and communications abilities. Her plan now is to fine tune their skills, allowing them to achieve their full potential.
Eickelberg won The Herald Mail 2014 Washington County Coach of the Year and she plans to duplicate the coaching technique that brought her that award with the Urbana Varsity lacrosse team.
"I believe in leadership by example," Eickelberg said. She wants to be a quiet leader, someone who allows the team to grow and prosper on their own and helps guide the team to victory.