A Look Into 2016 Spring Sports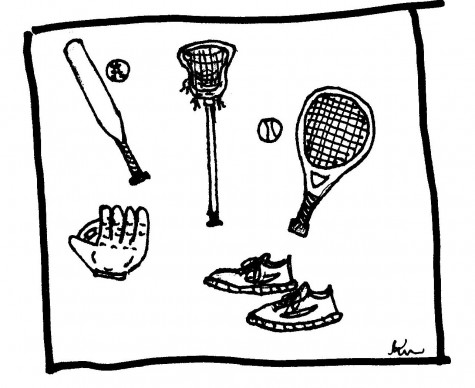 Kevin West
Baseball
After having a very successful season last year and finishing third in the state, the Baseball Team has great aspirations to go farther this season. With the loss of eight seniors, the underclassmen and four returning players will fill those spots respectively. To prepare for tryouts on March 1st, "the team has been doing preseason workouts, lifting and hitting drills," said senior, Nick Maxsell. The team hopes to have a winning season with a dream of states again lingering in their near future.
Softball
Last season the Softball Team had one of the best playoff runs the team has seen in years. Finishing off with a heartbreaking loss to Linganore, the girls are looking to redeem themselves this year and return to the playoffs. A main factor in the team's success was their chemistry on and off the field, "the team was very close and that helped a lot" said senior, Emma Grossman. With the loss of only three graduating seniors in the off-season, the team is expected to have many returning players who hope to build on their achievements from last year. In preparation for the season ahead the team is holding winter workouts for an hour every morning. Although the team is set to have a standout season, their main goal is simply to "have fun," said Grossman.
Boys Lacrosse
The Boys' Lacrosse team is looking to redeem themselves this upcoming spring season with hopes of winning a County Championship and beating two of their biggest rivals, Linganore and Oakdale. With a new assistant coach on board and the hunger for a successful season, the boys have been putting in a great deal of effort in the off season. From morning workouts three days a week, commonly known as the "Breakfast Club", to workouts after school two days a week, the team is eager to come into the season well prepared. One of the setbacks the team faces going in to the new season is the loss of a strong group of seniors. "We lost our whole starting defense after last season," said senior, Griff Lehnert. The underclassmen and returning players are working hard to fill the spots of the graduating senior in hopes of have a winning season.
Girls Lacrosse
The Girls' Lacrosse team is coming into the new season with a strong drive to continue their success from last year. The team ended up fourth in the county and ended their season with a long playoff run. With a new coach leading the team this year, they have high expectations to "work better, work well together, and have a strong motivation to do well," said senior, Taylor Robertshaw. Though the team lost six players at the end of last season, they are set to have a strong group of returning seniors to lead this season. Drop-ins (pickup games) have been held weekly, in addition to individual players attending conditioning and playing for club lacrosse teams. This pre-season training is preparing the team for what they hope to be "our best year," said senior, Haleigh Pannell.
Girls Track
Sweeping counties and regions while also placing second at states last season goes to show Girls Track had an outstanding 2015 spring season. The team is not settling and is working even harder to go further this year, maintaining their strong reputation at counties and regions, and hopefully at states. Sarro explains that track really has no "off-season". From fall to spring the athletes are constantly working to improve their times and placing at each meet. Graduating a number of solid distance runners leaves some holes to be filled, but Sarro explains that the underclassmen are eagerly filling those spots with their eyes on the prize this season.
Boys Track
  Similar to the Girls Track team, the Urbana boys won both counties and regionals last season. "It was a really good season, we made a lot of improvements last season," said senior, Robert Fox. The team is letting this success drive them further in hopes of winning states this year. At the end of last year the team lost many of their big point scorers for both short and long distance running, but the team is not letting this loss set them back. The returning team members are stepping up to the plate this year. "Everyone is making up for it," said senior, Kevin Cardenas. With indoor track ending just days before outdoor starts, the team is well conditioned and prepared to take on the challenges that face them this season.
Girls Tennis
  Finishing off the season with a win at counties and a third place title at regionals, the Girls Tennis team has high hopes to carry their momentum into the new season. "We hope to win counties again and also take regionals as a team," said senior, Amy Shenk. With the loss of a senior captain, the team is relying on both returning and new players to step up and compete. In the off-season many girls played in tennis leagues individually and worked out in preparation for the upcoming season. With a strong group of seniors returning to the court this year, the team is working hard to maintain a winning record and strong post-season.
Boys Tennis
Coming off a great team effort last season, Boys' Tennis is looking for a shot at states this year. With a strong senior force and very little change in team dynamics from last year, the boys are motivated to win and hope to be  the number one county team overall with the shot of sending some individuals to states. The team has high expectations for a successful season and a stronger group relationship. Senior, Brady Collins, says he is "super pumped" for this season.