Cheerleading Competion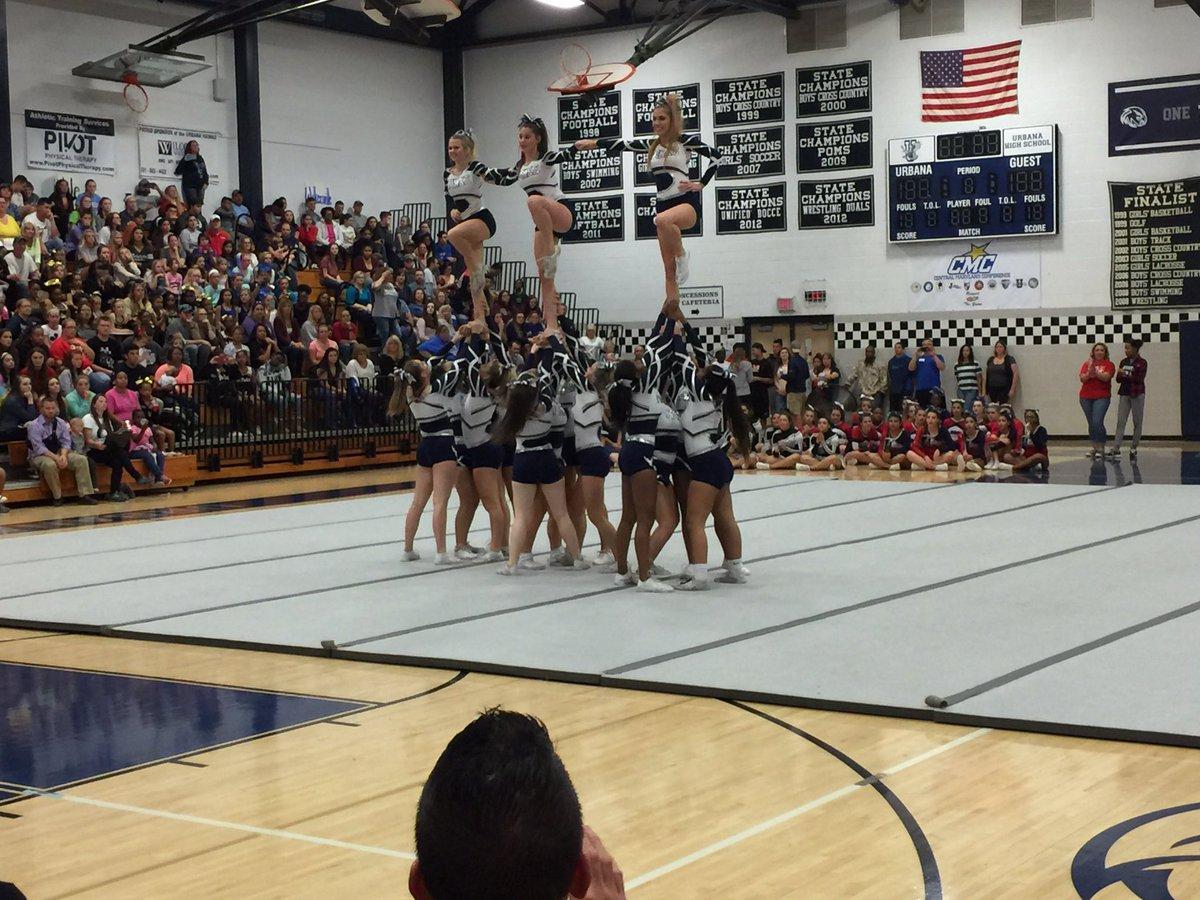 Courtesy of Urbana Athletics
The end of the football cheerleading season was bittersweet for the seniors as well as the younger girls who will be taking their places. Senior Courtney Talbert said, "Coming into this football season, I just wanted to have a fun, memorable season since it's my senior year. It didn't matter to me how often we won or lost, I just hoped to enjoy cheering at all the games."
Talbert said, "We had a lot of potential to beat the other schools, we just had to work really hard as a team and do our best." Just as any other sport the concept teamwork makes the dream work, is a huge part of cheerleading when it comes to competitions.
The 2016 Invitation Competition was held at Francis Scott Key High School. The Invitation is the opening to the cheer competition season that serves as an introduction to what that competition season may consist of. This season at Invitationals Linganore placed first, Liberty placed second, Westminster placed third, and Urbana Varsity Cheer placed fourth. Senior Morgan Guerrero said, "We didn't know how far we were going to go. It all depended on how hard we worked."
The County Competition was held at Urbana High School, where the Varsity team slid into third place safely. While the girls were faced with some hardships, they were able to pull it together. Senior Vanessa Compres said, "We didn't go to two competitions because some girls got hurt and we didn't feel comfortable risking the whole routine, so we went and supported our JV team."
The stunts within the routine are always a crowd favorite. Compres said, "For our elite stunt we did a Switch Up and then a Half Full Up. I backed a Kick Full Basket, and we did a Full Up as well as a Full Down." In Cheerleading terms, a Switch Up is when the flyer goes straight up into the air on one foot, then, as she reaches the top, is popped a little higher by her bases to switch onto the other foot, also called a 'Tick-Tock'. A Half Full Up is when the flyer is placed sideways and as the bases push her up, fully extended, she twists facing front ways. When performed the flyer looks as if she is spinning. This all happens within ten seconds or less making it a perfect piece to the elite stunt.
The Regional's Competition was held at Harford Community College in Bel Air Maryland. Out of the twenty-four competing teams, Urbana's Varsity team placed fourteenth. For the senior girls it may not have been the outcome they wanted, but it was a true eye-opener to how successful their cheer season had been. Guerrero said, "Our team has really improved on tumbling and our stunts this season; we knew we could beat some schools." This was definitely a lasting memory for the girls graduating this upcoming year. All in all this team has something very special to be proud of.