Insight to Urbana High Schools Unified Sports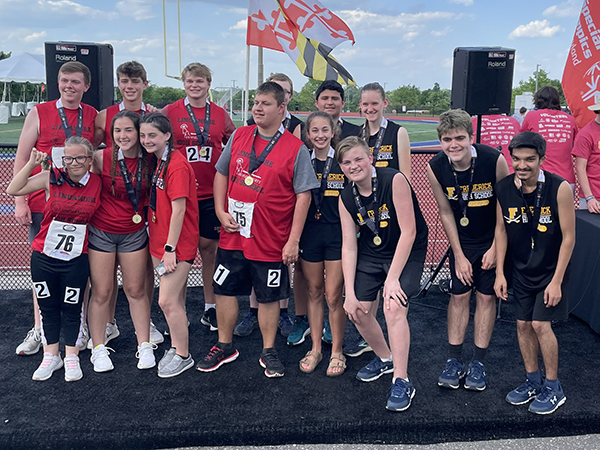 Around 1.2 million people in the world participate in Unified Sports. This allows for inclusivity and it breaks down stereoty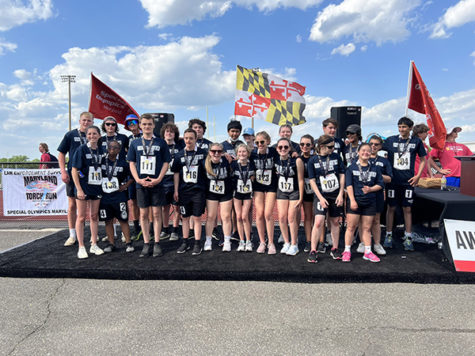 pes about people with intellectual disabilities in an entertaining way. Urbana High School has three unified sports teams: bocce, tennis, and track. These athletic teams are composed of students with and without disabilities competing alongside each other as teammates. This empowers UHS students with disabilities to feel included and united in school sports. The school began participating in this to encourage people to understand others who may be different and develop new friendships.
Unified Bocce
Young people with disabilities do not often get a chance to play on their school sports teams. Which is why the concept of unified sports was created. Unified sports teams are provided at Urbana High School during the fall, winter, and spring seasons. The unified winter sport is Bocce. The purpose of the game is to get the ball closest to the pallina which is the target and to score the most points.
Bocce is an ancient sport and has seen many changes throughout the ages. It has evolved from being a sport played with stones to a modern game with metal or wood balls. Bocce has been on the rise for years and it is now considered the third most popular sport in the world.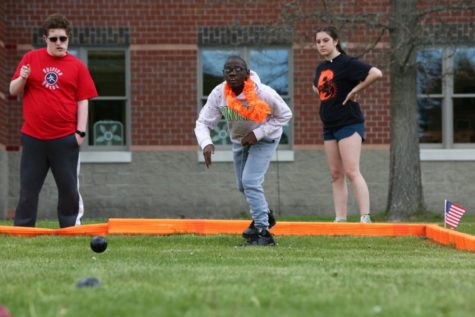 Gavin Donahue, one of the current coaches of the Urbana Unified Bocce shared that the highlight of the season was, "Gaining a relationship with the student-athlete and the mentors and seeing how they progress and improve over the regular season" Shawn Baker, is also one of the coaches of the Bocce team and when asked what he thought was the highlight of the season he stated that, "Seeing how much fun the kids have. They love being around each other and it's just amazing to see how nicely everyone gets along."
A Bocce team member Gabriella Saulsbury shared that her season highlight was "Being able to help special needs kids learn how to play. […] I feel like they are treated differently because they are special needs but I believe that everyone should be treated the same regardless of who they are or what special needs they need." During practices, the team likes to play a few games and help each other out by throwing the ball onward the pallina. Which allows them to work together as a team and deepen their relationships. In addition, many of the players shared that if it weren't for this opportunity they would have never met so many amazing new people. Team member Alyssa Berg shared that her favorite part of being on the team was, "Getting to know everyone and the community that is on the team." Gabriella added that she has learned that "positive encouragement is really helpful and changes people's mindsets and allows them to have more fun. You should not break people down, you should bring people up. Help them out. Act like a team."
Unified Tennis
Urbana High Schools' unified fall sport is Tennis. Just like the rest of the unified sports, tennis allows any high schooler no matter what you look like to join the team and practice unity. The point of tennis is to strike the tennis ball over the net and into the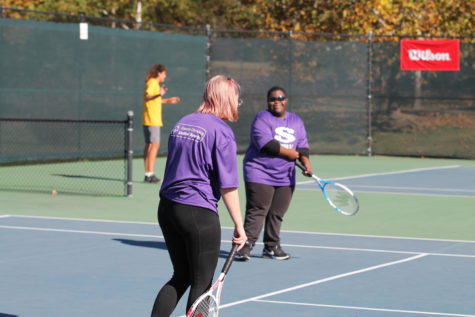 opponent's court with a tennis racket. The team has to be able to work together in harmony to beat the opponents and get more points. The competitions are a chance to be recognized outside of an academic area. They also allow students to build community with their peers.
Karin Bauer, the current coach of the Urbana High School Unified Tennis shared that something different from this season was, "We had new uniforms which were something new for all the unified sports. The old ones were not so nice." She has been coaching for years now and she shared that her favorite part about coaching has always been, "Working with student-athletes. Seeing them have fun and enjoy the sport." Though playing tennis like any other sport is hard work, she shared that you always have to work hard and have the persistence to flourish in your sport.
Lily Bastian, a team member of the unified tennis team shared that this sport helped her grow as a person by allowing her to "make a lot of new friends and gain a new skill, and a new sport." She also agrees with what Coach Karin had to say about hard work by adding, "Learning how to play was difficult at first but I just had to continue to work hard and practice with my teammates." Players on the team shared that it was hard to adjust at first, just like anything new but as time goes on and you meet new people then it becomes a really fun opportunity. Bastian's favorite part about unified tennis was, "Practices because it was an opportunity to play the sport that we all love with people we care about. It was a memorable moment that we will all remember."
Unified Track and Field
Track and Field is Urbana High School's spring unified sport. Unified track and field bring students together with varying disabilities alongside students without disabilities to participate in meaningful competition. This sport consists o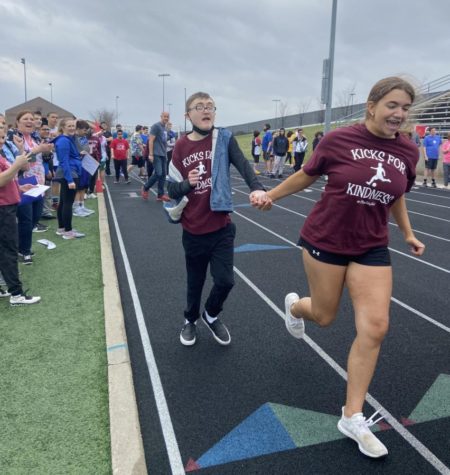 f the students running on the track and trying to run as fast as they can to get to the finish line. As each athlete strives for success, they run side by side as a team helping each other and creating a phenomenal experience for all. Last season the Unified Track and Field team won states.
Ida Davis, one of the current coaches for the Urbana Unified Track and Field shared what the team does to prepare for practice which is, "try to get activities together for them to warm up." To prepare for a track meet, the team is
practicing their event and runs their distances. The athletes also compete against each other to improve their times.
Heidi Jansen, who is also one of the Unified Track and Field coaches, shared some of the changes to this season: "We have a different head coach. We are trying to work together to make this a great season. We have new athletes that have never done this before and we are getting them acquainted with the different activities that we do." A fun memory from this season so far was, "doing the time trials was very fun. I enjoyed watching them run across the finish line. The athletes were having so much fun" shared Coach Davis. The coach's favorite part about coaching is working with the kids and being able to see the students develop their relationships. When asked what makes a good athlete Coach Davis shared, "The willingness to try and to never give up. If you have an I will be successful mindset then inevitably with hard work you will be."