Student Spotlight: Cece Hartford
Cece Hartford another teen wa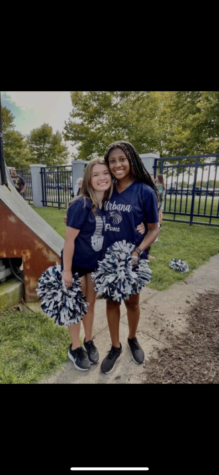 lking around the halls of Urbana High School. Maybe you've heard of her name before but don't know who she is or anything about her. By learning about Cece's goals, activities, and background we can solve the mystery of another student in UHS.
Background 
     Celetra Hartford (Cece) is currently in her sophomore year at UHS (shown on the right).  Born in Rochester, New York Cece moved back and forth between Florida and New York. until 2015 when she moved to Maryland. Cece has two younger siblings Jaxson 11 and Kingston 8 being the oldest Cece is a big supporter and role model for her brothers. 
Extracurricular activities
   Cece is part of the stage and props crew for the theater.  Cece is also a part of Katie's Krops. Cece helps her mom with her small business (Faithful By Design ) she sells the products such as personalized shirts at events like football games. Cece also dances but mainly does ballet at Dance Unlimited. "Dancing is like euphoria" Cece begins to describe "Being able to tell a story and express how I feel through movement and actions is incredible for me. For years i've loved dancing. I love it so much it's basically a part of me" she goes on saying that "Being able to perform in-front of an audience or just dancing around my house gives me a feeling I just can't explain"  
A day in Cece's life
    Wake up around 5:30, take a shower, listen to music  Cece mentioned she's been listening to Anything goes with Emma Chamberlain a podcast by Emma Chamberlain.  She then eats breakfast and gets on the bus to school around 6:45. After School she either goes to dance or theater practice. When she gets home she does her homework. Then she gets to relax by facetiming her friends, reading a book, watching a Netflix show or playing a video game.  Speaking of relaxing, Cece talks about using music and making Pinterest boards as a way to destress after a long day, something that isn't known to many. "I am the type of person who will make sure you feel loved even to my own expense and I think I am funny" this isn't just Cece's opinion of herself it's something that is well known to people who are close to her. 
Future plans
    As of right now Cece wants to do something that involves her passion for dance such as opening her own dance studio. She mentions how she can't picture herself living in a big house with a white fence. Cece would prefer to live in a vibrant city such as New York. With her she wants a dog and cat and a matte black dodge challenger. Cece is in my business class and for one of our assignments we created vision statements. Cece shared hers with me. "I will focus on myself, achieve my goals for myself, and won't do it for anyone but myself". Next time you're in the hallways of Urbana keep an eye out for Cece Hartford.