UHS Drama is "Getting Ready" for 13!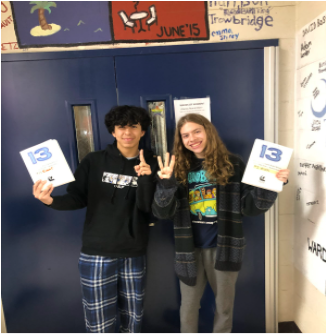 The year is now 2023, and students are coming back to school bright and early at 7:30 AM from winter break meaning a brand new semester with brand new beginnings. And for a drama kid, they know that this also means that brand new auditions are rolling up for a brand new mainstage show! 
With 67 Cinderellas in the fall and 12 Angry Jurors in the winter, the drama department has been putting out so many productions that each showcase the students' hardwork and talent, but the season isn't over yet. Opening this spring is UHS Drama's production of 13, a rock comedy musical! This production is expected to be open for two weekends on March 23rd through 25th and March 30th through April 1st. 
The entire department is beyond excited to share this production with everyone, and they've already started working hard on rehearsals. Sumedha Bhat (12), assistant stage manager and historian for International Thespian Society says, "We're still in the early stages, but I'd say anywhere from like 15 to 25 hours a week with the daily rehearsals and set builds on Saturdays."
13 is not like any musical that they've done in the past. The musical, originally previewed on Broadway in 2008, is centered all around the character Evan Goldman, a young jewish boy preparing for his Bar Mitzvah, and how he handles being at a new school with new friends and very complex social circles. It's a bold comedy that is filled with humor that's made entirely for teens and includes some of the funniest characters. It's also been a while since UHS Drama has put on a rock musical, and they certainly haven't put on one  like this.
Mr. Ward, drama director and theater teacher here at UHS, believes that audiences should be very excited about what's to come with this spring production. "It's a high octane rock musical. So, it's very much staged like a rock concert, and I think that that will be really fun visually to see in addition to the energetic dance numbers," Ward explains.
The auditions for the show stretched out for the entire week with dance auditions on Tuesday, January 17th, acting and singing auditions on Wednesday the 18th and Thursday the 19th, and callback auditions on Friday the 20th. The audition process is pretty standard for each musical, but it doesn't get easier with each year. There is nothing more intimidating than auditioning in front of four people who will determine the fate of your being casted in a show, each one of them judging your every move. Nick Gerace, a senior at UHS who will be performing onstage as Evan for 13, details what kind of challenges he went through with the audition process. 
"With the audition process, my original audition, which was 2 monologues and 2 songs, was actually easier, but then we had callbacks which was even harder because we didn't know what we were doing because we had to be prepared in every single way and that's just hard," he revealed. Even though it was extremely hard, they all got through it, and it paid off for the over 50 of the 60 who auditioned. 
The greatest aspect of 13 is the message and how it can really relate to the demographic of the students at this school. Considering the fact that the show entirely surrounds the lives of young students, the story is forced to address many of the pressures that young people face, whether it's in an emotional or satirical way. The plot, characters and music each play a part in giving some kind of voice to the youth and makes it a great show for our generation. 
Mr. Ward perfectly states, "I want the audience that this show speaks to to understand that they are still learning and they still have a ways to go… Always learn, always be willing to change, always be willing to adapt, and never stop learning."