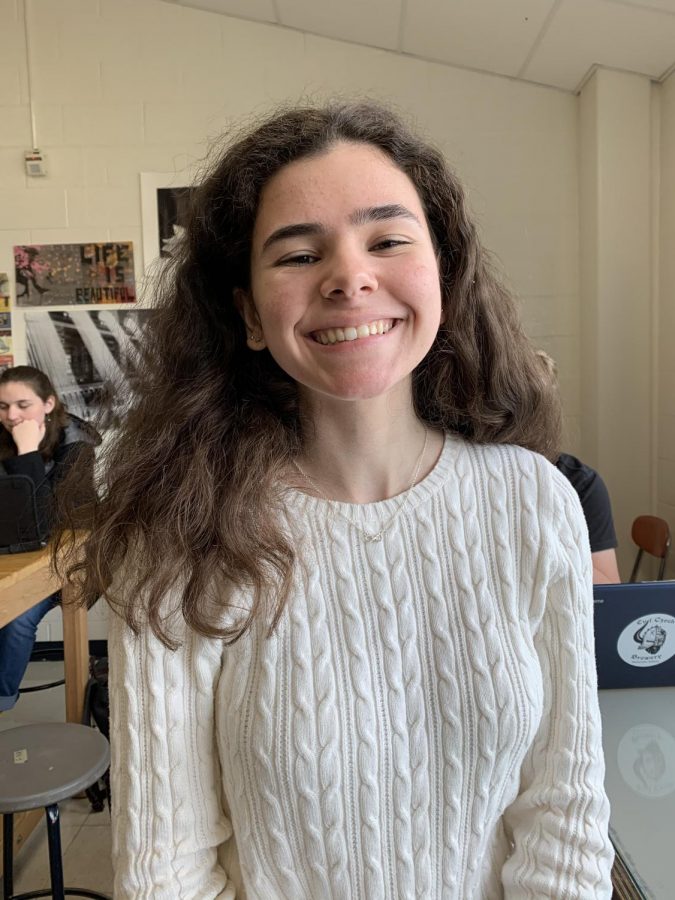 Celeste Allanach is a senior at Urbana High School. She has been involved with the theater program for three years. She was drawn into the theater department as a sophomore because of the atmosphere in the "F-Wing". The act of performing gave her a thrill, that made her return to for nearly every show since her first show,
Footloose
. Since her first show, she has performed as an interviewer in the one act
13 Ways to Screw Up Your College Interview
, multiple characters in the one act
Bad Ideas for Bad Television Shows
, a hippie mother in
The Customer is Always Wrong
,
Ms. Templewhite/Babs in
Happy Daze
, and Smitty's understudy in
How to Succeed in Business Without Really Trying
. She is taking her final bow on the Urbana stage playing Allana in our 2020 spring musical:
Disney's The Little Mermaid
. When she is not performing on stage, you can still find her in the F-Wing. She has been on stage crew for our fall show this year and she has been involved with multiple choirs under the direction of Ms. Cosby.
In the fall, Celeste plans to attend Towson University majoring in Electronic Media and Film. She is choosing Towson because of the Hogwarts-like campus, with an amazing dining hall. More importantly, for her, is the fact that it has the best film program in the state of Maryland. With her degree in Electronic Media and Film, she plans to be a screenwriter and director. With her passion for theater, the arts, and writing, it is the perfect career for her. Her favorite class at Urbana was Creative Writing with Mr. Ward. This class gave her a taste of screenplay writing with the freedom to write whatever she wanted. She learned how to properly write a story with the specific mechanics that are required. She is excited to start her new chapter at Towson.
Celeste Allanach
May 20, 2020

Does live theater offer something that television and movies don't?

(Story)

May 12, 2020

AP Testing: Photo of the Day 5/12/20

(Story)

Apr 27, 2020

Class of 2020 Door Decor: Photo of the Day 4/27/20

(Story)

Apr 25, 2020

Does musical training make you more successful?

(Story)

Apr 17, 2020

Pajama and Family Day: Photo of the Day 4/17/20

(Story)

Mar 04, 2020

Offerings: Photo of the Day 3/4/20

(Story)

Feb 27, 2020

Do High Schoolers Have Too Much Homework?

(Story/Media)

Feb 22, 2020

Set Build: Photo of the Day 2/22/20

(Story)

Feb 21, 2020

Drama Club: Photo of the Day 2/21/2020

(Media)

Feb 06, 2020

Professor Urbana: Photo of the Day 2/6/20

(Story)