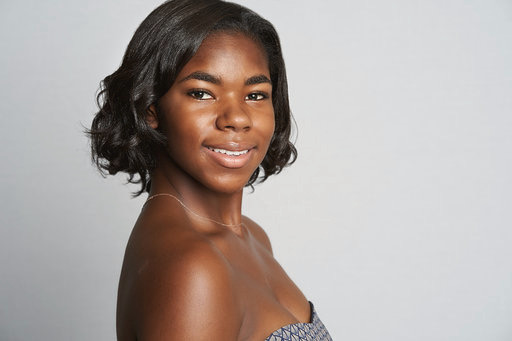 Samantha Jones is currently a senior at Urbana High School. This is her first time being a reporter for the UHS Hawkeye. Samantha preoccupies herself by being a member of the Theater Department. She attempts to participate in every play, musical, activity, and fundraiser that the department offers. From acting in student directed productions to participating in a haunted house as a creepy ghost girl to scare visitors; she loves being a part of this program. It is like a second family to her.
When you don't see her by the UHS stage or in Mr. Ward's room, you can find her working on her singing and dance techniques in Ms. Cosby's room. She is a dance captain of the Soaring Sensations Show Choir and this is her second year in her position. She loves Show Choir because of the camaraderie between everyone in the class and the dancing skills that are required. Rehearsal and competition season is the most spectacular time to her. Spending time with her classmates and practicing their show choir set makes her feel fulfilled.
Samantha does not know what college/university she is planning on attending, but she has her heart set on majoring in theater with a concentration in acting. She wants to double major in theater and communications arts. She plans to be a part of the cheer leading team or joining a choir while in college.
Samantha Jones, Reporter
Jan 04, 2021

January Blues: 5 ways to overcome a dreary January

(Story)

Dec 31, 2020

2020: A Terrible Joke or Blessing in Disguise?

(Story)

Nov 16, 2020

2020 Holidays: COVID-19 Edition: 9 ways to stay (physically or mentally) active during the upcoming months.

(Story)

Oct 12, 2020

Ruth Bader Ginsburg: The humble beginnings of a feminist icon

(Story)

Oct 05, 2020

Kicking Coronavirus to the Curb

(Story)