UHS Student Stars on AMC's Making of the Mob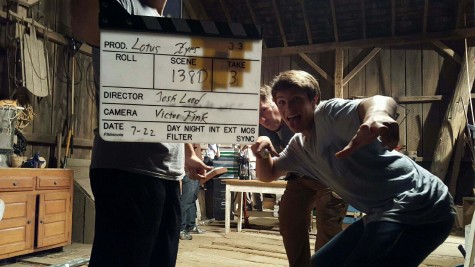 Seventeen year old Senior Mitch Holson has had an exciting summer. While he is known for his jumping exploits in track and field, he has also had an incredible acting career, doing many small commercials as well as some bigger roles.
Right after New Year's, Holson's mom told him that he had been cast by AMC in the premiere episode of the TV mini-series Making of the Mob. Although he had emailed a video audition for the part, he was caught off guard by the swiftness with which the events took place.
"I was surprised by the call and how sudden it was," Holson said. He had wanted to be in the show but had no idea he had been cast until the moment his mom told him.
They started filming in January in Martinsburg, West Virginia, which was challenging for a variety of reasons.
"If there was one thing that I learned it was that trying to act like it's the summer in winter is extremely difficult," Holson said. "They even had to rush us our jackets between takes."
Holson also had the opportunity to meet some fellow actors and producers. He met Rich Graff, an actor who starred in Divergent and also met Ernest Dickerson, Director of the Walking Dead.
Besides meeting new and distinguished actors and producers Holson said one of the most enjoyable things about his role in the Making of the Mob was the "no messing around and professionalism of the crew members and the cast" as opposed to other sets where there was not quite the same level of focus. "Everyone was extremely concentrated on what they needed to do, and the atmosphere was intense," he said.
Holson has been acting since he was 6 when started in theater through plays. Despite his talent and love for acting, his real passion lies in film production. However, Holson also said that his experience in acting "[will] seriously help my future Film Production [career]". He plans to enter college and obtain a degree in film Production.
This was not the only production Holson has been in. Besides starring in various ads and commercials since he was 9, Holson also starred in the feature film Lotus Eyes and also co-produced it, an exciting step towards his goal to become a producer.
Making of the Mob premiered on AMC June 15, 2015, and ran for 8 episodes. The show was so successful that it was renewed by AMC for a second season of eight episodes, titled The Making of The Mob: Chicago.