What's On Our Playlist? Urbana's Favorite Musical Artists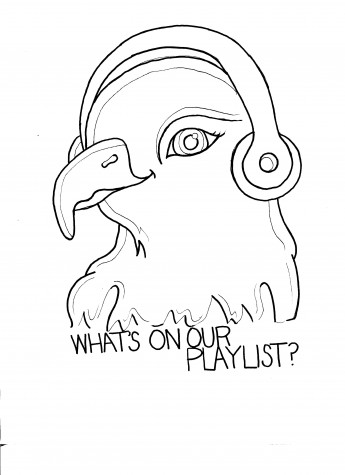 Maddi Rihn
Halsey:
Allison Davis cannot stop listening to New York-based singer-songwriter Ashley Frangipane, better known by her stage
name Halsey. The name "Halsey" was inspired by a street in Brooklyn where Frangipane spent a lot of time as a teenager, and it is an anagram of her name as well.
Halsey began her career as a 17 year old, sharing her music on websites like YouTube and Tumblr. Since signing with record label Astralwerks in 2014, she has released an EP, Room 93, as well as her much awaited debut album, Badlands, in 2015. Halsey said Badlands is a concept album about a fictional dystopian society called The Badlands, inspired by various post-apocalyptic movies including Blade Runner and The Fifth Element.
Halsey's music has been described as "dark, gritty electro-pop", and is driven by her vocals and lyrics. Davis' favorite Halsey songs include "Ghost" and "Haunting".
Ritchie Valens:
Known for his 1958 hit "La Bamba", Mexican-American singer and songwriter Ritchie Valens is an artist on Meghan Farrell's playlist.
Valens grew up loving music, playing many instruments before he developed his passion for the guitar. Inspired by traditional Mexican music, popular R&B artists, and various innovative rock artists, he joined his first band, the Silhouettes, at age sixteen. The band played various local gigs until Valens was spotted by the head of the Del-Fi record label, Bob Keane, marking a breakthrough in his career.
Valens went on to record his music including widely enjoyed singles "Donna", "Come On, Let's Go", and "La Bamba". "La Bamba" has been described as a "revolutionary song that fused elements of a traditional Mexican folk tune with rock and roll."
At age 17 his career was cut short after a plane crash in which himself, the pilot, and tour members Buddy Holly and J.P. Richardson were killed. The accident became known as "The Day the Music Died".
Before the age of 18, Valens became a highly influential musician in rock and roll and the Chicano rock movement. In 2001 he was inducted into the Rock and Roll Hall of Fame. Farrell's favorite Ritchie Valens songs include "La Bamba" and "We Belong Together".
Great Big Sea:
David Bastis has been listening to Great Big Sea, a folk rock band from Newfoundland.
The band formed in 1993 after frontman Alan Doyle joined forces with his fellow musicians Sean McCann and Bob Hallett. Soon after they self-released their debut album, Great Big Sea, and later signed to Warner Brothers Canada.
The band is known for their fuse of traditional Newfoundland folk music and energetic rock elements.
In 2013 the band celebrated their 20th anniversary, and two years later the band was retired. Their most popular songs include "The Night Pat Murphy Died" and "Ordinary Day", but Bastis' favorite songs by them are "Tickle Cove Pond" and "Old Polina".
Joy Division:
Joy Division was an English post-punk band and is also one of Francesca Testin's favorite artists.
Joy Division consisted of vocalist and guitarist Ian Curtis, guitarist Bernard Sumner, bassist Peter Hook, and drummer Stephen Morris. Shortly after forming in 1976, Joy Division released a four-song EP, An Ideal For Living. In 1979 the band released their debut album, Unknown Pleasures, which has been named by NME as "One of the Greatest Albums of All Time".
Joy Division was a band especially recognizable by Curtis' baritone voice and gloomy lyrics, as well as classic 80's post-punk elements, from the melodic basslines to the percussion. Joy Division became highly influential on music, inspiring bands like Bloc Party, the Cure, Pet Shop Boys, Radiohead, the Smashing Pumpkins, and U2.
The band unfortunately came to an end after the suicide of Curtis in 1980, shortly before the release of their album Closer. The remaining members eventually formed the successful rock band New Order.
Joy Division truly was a band unique to their genre. "You can't really compare them to anyone," said Testin. Testin said the lyrics are her favorite part about the band, and she also finds the history behind it fascinating. Her favorite songs include "Isolation", "Disorder", and "Interzone".
Sugarland:
Sugarland is a country music duo formed in Georgia in 2003 consisting of singer-songwriters Jennifer Nettles and Kristian Bush, and they are a band at the top of Rachel Main's playlist.
Sugarland's music is driven by acoustic guitar and Nettles' powerful vocals. "She can hold a note for twenty minutes straight," said Main. Finding much inspiration for their songs through iconic music and coming-of-age films of the 80's, Sugarland has released five studio albums, and various hit singles including "Stuck Like Glue", "All I Want To Do" and "Something More". The band has proved to be very successful, winning the 2009 Grammy Award for best country song and the 2011 Vocal Duo of the Year award from the Academy of Country Music. Main's favorite Sugarland songs include "Stay" and "Baby Girl".