NAHS Students Bring Art To The Urbana Hallways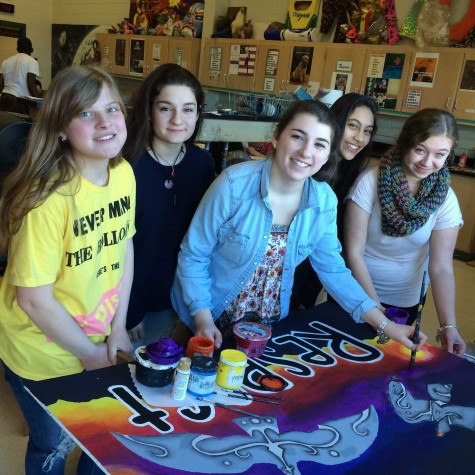 Amelia Willett, art teacher and advisor for the National Art Honor Society (NAHS), is thrilled that her NAHS students are working on mural paintings throughout the school. The One Team One Urbana mural that will be hung in the gym is an example of their work.
NAHS students are currently focusing on their new assignments. Michael Chavez, Principal, wants to emphasize the habit of showing respect, unity, integrity, and pride not just inside of our school, but also in our community. Therefore, NAHS students are in the process of painting the core 4 murals.
The Respect mural has two elegant hawks flying, showing respect for one another. The Unity mural consists two hands forming the letter U, indicating different types of people coming together. Junior Biff Katoski's interpretation of the Integrity mural is having hawks watching out for each other, "doing good things without people knowing." Last but not least, the tall and upright building of UHS represents the pride of the school as a whole. NAHS students expect these core 4 murals to be finished by April and hung in the auditorium.
Sophomore Rachel Blache, one of Willett's NAHS students, is working on the Respect mural said she likes "working with people and creating art."
In addition to the core 4 murals, NAHS students are also diligently working on the Science mural which will be placed by the B-wing. They are also designing with the F-wing mural which is a combination of Arts, including a dancer in the middle surrounded by theater students, hand painting, a saxophone, and a composer on a black background.
Sophomore Rachel Main, who is also working on F-wing mural, said "I enjoy art and get to know more people. Friends are great to give ideas and compliments." NAHS students meet every Tuesday and Wednesday from 2:15-4:00 after school to work on these projects.
Willett is extremely proud of her students for achieving so much this year. Her favorite moment will be when she goes around and sees "the work done by my students." She is excited and cannot wait for her students' final products.