Dress Codes: Are they fair?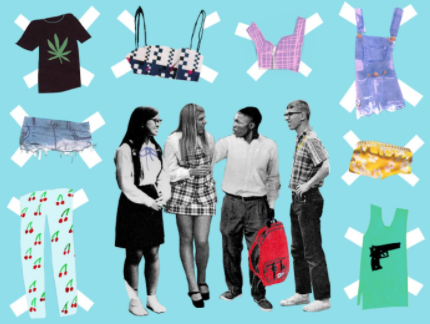 The school dress code is a controversy that has been trending now more than ever, specifically its bias towards female students. 
Many students here at Urbana High School believe that a dress code is necessary for the school but there need to be some changes made to it. Even though the school's dress code does not have a gender listed within its rules, they target the clothes that female students most commonly wear. Most students even believe if a male and female student break the same dress code rule, only the female student would face the repercussions.
School dress codes are made to make a safe and positive environment within the school. Some may say that it does create that type of environment but, many would say it does quite the opposite. Dress code rules are often ungendered when listed on school websites but the rules undoubtedly single out female students. Having rules such as no low cut tops, no exposed midriff, proper length shorts/skirts, and not showing too much shoulder are obviously directed towards female students and the clothes they wear. 
The clothing market right now for young females is filled with all of the things the dress code prohibits. Everywhere you look within the juniors shopping section there are crop tops, short shorts, and low cut shirts. Not only does this dress code target female clothing, this kind of dress code teaches girls from a young age to cover themselves up and that their bodies are objects that are viewed as distractions. 
This problem does not just lie within the contents of the dress code rule book but the punishments that come from breaking said dress code. When male students break dress code they often just get told by teachers and administrators to fix what is wrong with whatever they are wearing and it's done with. But when female students are dress coded it is handled differently. Most frequently the girl is sent to the office and the parents are called to bring in new clothes or they give them a new set of clothes to change into. Even on occasions a student can be sent home, missing an entire day of learning because they wore something the school does not approve of. In an article by Insider, a female student at Forest Hill High School was removed from class and given ISS (in school suspension) for wearing ripped jeans that violated the school dress code.
Bringing back a point made earlier, when female students break dress code they are viewed as distractions to their classmates and they negatively impact the education of the people around them. To see if this was true I asked students at Urbana High School, "Does breaking dress code negatively impact someone's education? If so, how?" To this question all of the students' responses were similar to one another. When this question was asked to a tenth grader here at Urbana High School she replied with, "No it doesn't, nobody gets different if you can see a little of a girl's stomach, people only get distracted if someone is wearing something crazy." Later the question was asked to an eleventh grader here at Urbana and their response to the question was, "I don't see how a dress code violation could affect one's education."
   But to every topic there is another side of the debate. The question that needs to be answered with this side of the debate is, "Why are dress codes good/important to have in schools?" There are a couple of reasons why people may pick this side of the debate. School dress codes promote a more serious school environment where academics are emphasized. Another reason for dress codes are they reduce the social conflict and peer pressure that are corresponding with appearance. 
Ultimately dress codes were put in place for a reason, but it's bias towards female students is simply unfair. But with teens across the nation speaking their opinions on the topic, hopefully we will be able to see the changes made to the dress code.