Reality T.V. is Real T.V.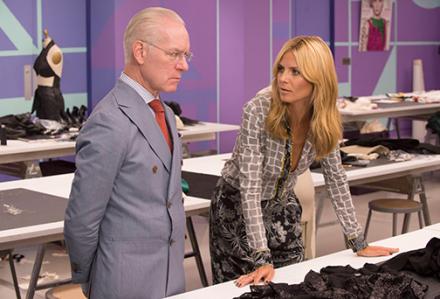 Some may say that reality shows are an unnecessary waste of time but most high school students would disagree. A few reality favorites are: Project Runway, Dance Moms, Bachelor in Paradise, and Say Yes to the Dress.
  Project Runway is a popular fashion related TV show where contestants have to use clothing items to make objects/props.     Dance Moms is a drama filled show of young talented dancers who are trying to live their dream but are doomed with a terrifying dance instructor, Abby Miller.
The Bachelor in Paradise is a new show that is more about couples pairing up rather than one girl/boy searching for their true love out of 25 people. Each week two girls or two boys get voted off the show to narrow down the ultimate couple who will most likely end up getting engaged. Last but not least Say Yes to the Dress is an extremely entertaining yet sometimes heart wrenching show about brides finding their dream wedding dresses. Sometimes the future brides make the mistake of bringing too many people with them when they try on their wedding dresses and end up getting unwanted negative comments about their dream dress.
   Senior, Bethany Straus loves to watch Project Runway, "I am not a person that is into high fashion things, but I like to sort of inform myself as to what's going on in the world of fashion. The contestants have to create fashion looks with pieces or outfits given in a certain amount of time," Straus said. An example of a challenge the contestants [on PR] are given would be to make movie theatre objects (such as popcorn buckets) out of dresses. Straus said that her favorite character on the show is Kini because "he is this short Hawaiian guy who is always really happy and is always excited for food."
ABC's new hit show, the Bachelor in Paradise, is stirring up drama, even more so than the typical Bachelor/Bachelorette. Senior, Kelly Winklbauer enjoys watching this riveting reality TV show. When asked her opinion on the show, Winklbauer said, "If you're a fan of The Bachelor/Bachelorette you may be disappointed because the lay out is cheesy, forced drama, and it borderlines the show Sister Wives." Winklbauer thinks the show goes too far in some ways. She said, "I'm 99% sure that there have been fist fights and men cry; you don't see that often. Girls start dying their hair to impress people so it causes damage to female hair." If she had to be one character on the show she would be Chris Harrison "because he literally sits there with a glass of wine and judges people," Winklbauer said jokingly. Chris Harrison acts more like a judgmental psychologist than a host.
   Seniors Caitlin Henry and Carolyn Kerecman love tuning into Dance Moms in their free time. Kerecman said, "I like watching Dance Moms and seeing how talented the kids are." Referring to the horrid dance instructor Abby Lee Miller, Henry said "She reminds me of my old volley ball coach who makes you cry while you are doing pushups." When asked who her favorite dancer on the show was Kerecman said "I like Chloe Lukasiak, I think she is really sweet, genuine and incredibly talented." Henry's favorite dancer on the show is Asia Ray because "she is so young and tiny. She has these massive aspirations and is so talented."
Junior, Olivia Madaras is a connoisseur of Say Yes to the Dress, Atlanta version. When asked why this is her favorite T.V show, Madaras said, "I love seeing the women find their dream dress." Madaras said her favorite dress consultant is Monte "because he always jacks the dresses up" (referring to the massive amount of jewelry, and accessories that Monte likes to put on the wedding dresses such as belts. Madaras said the one thing that bothers her most is "when the brides to be bring like 50 people with them and they can't agree on anything."