Preview of New Fall T.V Shows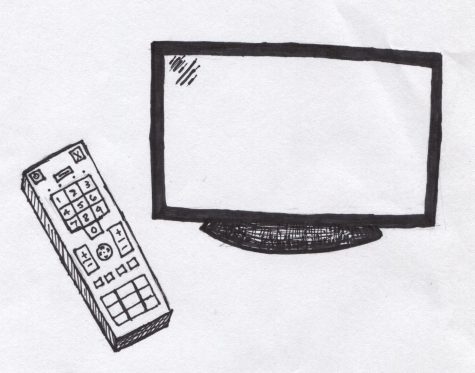 Cartoon courtesy of Gillian Sanders
The fall TV season is like the summer movie season.  All of the best shows come out in the fall, from returning greats to ambitious newcomers.  Twenty-eight new shows are gracing the small-screen this fall, and many of them show great potential.  From horror shows like FOX's The Exorcist, to sappy romantic comedies like NBC's This is Us, you can watch any genre your heart desires.   Here is a catalogue of all of the new fall shows this season.
NBC
Trial and Error
A comedic take on Netflix's Making a Murderer, Trial and Error follows a New York Lawyer as he travels to a small southern town to defend an eccentric poetry professor with the bad habit of making himself look guilty. Written by Jeff Astrof, who worked on a few episodes of the hilarious show Angie Tribeca, and produced by Matthew Miller, who produced Chuck, the show seems to have enough talent behind it to make a decent show.
Timeless
An unlikely trio travels through time to protect history as we know it in this thrilling adventure show. Not much has been released about it, but it has a high profile crew, with Eric Kripke (a writer for the hit show Supernatural) being one of the credited writers. Hopefully this show will not let audiences down.
This is Us
From the directors and writer of Crazy, Stupid Love comes This is Us, a dramedy about seemingly random people who share a birthday. Expect an emotion galore. With a talented cast, this show will not be one to miss.
Midnight, Texas
Midnight, Texas is based on a book series by the hit HBO author of True Blood. The show follows the people that live in Midnight and how none of them are who they seem. From vampires to psychics or hitmen, Midnight is a town where being normal is weird. From the director of Mr. Robot.
Marlon
Loosely based on comedian Marlon Wayans life, it stars him as he tries to raise his kids with his polar opposite ex-wife. There are about four TV shows like this every season, so I'm not expecting much. Maybe if he is lucky the show will end up like the very successful Blackish, or more likely end up like Kevin from Work, or the score of other subpar comedies cancelled after one season. Let us hope for the best.
Powerless
The first comedy series set in the DC Comics Universe, Powerless follows insurance adjusters who sell coverage against superhero damage. After standing up to a villain, Emily (Vanessa Hudgens) finds herself being treated like a superhero, if only by her colleagues. With a good lead actress, this show has the potential to be a heartwarming comedy.
Great News
From Executive Producers Tina Fey and Robert Carlock, Great News is about Katie, a talented news producer, as she learned that her overbearing mother became an intern at the company she works at. Shenanigans ensue. With Tina Fey producing this show, there is a very small chance that it will fail. She has had experience producing shows before, like 30 Rock and Unbreakable Kimmy Schmidt.
The Good Place
This show follows an ordinary woman, Eleanor Shellstrop (Kristen Bell), in the afterlife who finds herself in the Good Place instead of the Bad Place due to a clerical error. Instead of going to the Bad Place Eleanor is determined to blend into the Good Place and not let anyone else know where she was supposed to go. From Michael Schur, the executive producer of Brooklyn Nine-Nine.
FOX
Star
This dark and gritty Fox drama Star follows three singers as they navigate the cutthroat music industry. Made by the creator of Empire, if you liked that show, tune into this. Featuring an original soundtrack and talented artists like Queen Latifah and Benjamin Bratt, this show has the potential to even surpass its predecessor Empire.
Son of Zorn
Son of Zorn is Fox's newest comedy by Phil Lord and Christopher Miller (The Lego Movie and 21 Jump Street) about a mighty (animated) warrior and his attempts to bond with his estranged (live action) ex-wife and son. Zorn has faced mighty enemies, but will he be able to handle the pressure of suburban life? That's the question the show asks as it takes you on the hilarious adventures of Zorn.
Pitch
Pitch follows the fictionalized telling of the first female baseball player as she faces challenges from the media and her coworkers. This show has the ability to make it, the only real complaint with it was that its summary instantly jumped into the romance in the show, lowering its empowerment message. Besides that, like most Fox shows, it will probably be successful.
Lethal Weapon
Based on the movie franchise of the same name, Lethal Weapon is a buddy cop drama with acclaimed actors behind it. Staring Clayne Crawford and Emmy award nominee Damon Wayans, it follows Riggs and Murtaugh as they adjust to their unorthodox partnership.
The Exorcist
The Exorcist is based on the terrifying horror classic of the same name. The show follows two very different priests as they both try to take on one family's demon possession. Already receiving some critical praise, The Exorcist is expected to be good and terrifying. If you enjoy American Horror Story you will probably enjoy this.
CW
No Tomorrow
This CW show follows two people as they plan for the apocalypse together. It is based on the acclaimed Brazilian show, Como Aproveitar o Fim do Mundo, or How to Enjoy the World's End. Not much is known about the show yet, but if it stays true to its premise the show will be adorable and funny.
Frequency
Based on the Gregory Hoblit movie of the same name, this movie follows NYPD Detective Raimy Sullivan as she learns that she can speak to her dead father over his old ham radio. The show follows the butterfly effect as she tries to save his life and the ramifications that follow.  Peyton List plays Raimy Sullivan. She's an actress with enough experience to carry a show, but only the viewers will be able to save a show with such an unusual premise.
CBS
Man with a Plan
Starring Matt LeBlanc, Man with a Plan follows a contractor as he spends more time with his crazy kids. Like Marlon, not much is expected of this show. It has a talented lead actor however, so maybe something miraculous will happen to let this show last more than the customary season that most networks would give it.
Pure Genius
Pure Genius follows a Silicon Valley tech billionaire as he builds the ultimate hospital for treating only rare diseases, free of charge. An unorthodox surgeon joins his team and learns that his goal is only to save lives, including his own. This show does not have the special quality to draw in viewers. When the show airs the people will be able to see if its lackluster premise will be shadowed by its execution.
MacGyver
Based on the legendary 1985 TV show by the same name, many critics have been hesitant to talk about it yet, with the original actor for MacGyver (Richard Dean Anderson) slamming its very existence. With many calling this show redundant the outlook is not good. The series follows MacGyver (Lucas Till) as he creates the Department of External Services using his unconventional problem solving skills to save lives.
Kevin can Wait
Another sitcom about a man who goes home to spend time with his wife and child. The only unique thing about this show is that Kevin James stars in it. Skipping this show is recommended, or at least only pick one of the sitcoms to watch. It will save you time when you learn that they're all the same.
The Great Indoors
The Great Indoors follows an adventurer named Jack (Joel McHale) as he takes a desk job working for an adventure magazine while he adjusts to living in the regular world. The hardest thing he has to adjust to however is his millennial colleagues who write about the great outdoors, despite never having set foot in them. With the executive producer behind How I Met Your Mother (Chris Harris), there is a good chance that this show will have the talent to stay on air.
Bull
Bull stars Michael Weatherly, the actor most known for his role as Tony in NCIS, as Dr. Jason Bull. Bull is loosely based on the life of Dr. Phil McGraw, the founder of one of the most prolific trial consulting firms. This show will get viewers because of Michael Weatherly, but its premise has to stick in order for it to continue. With a talented lead actor this show could go either way, so audiences will just have to wait and see if it delivers on its promise of quality.
ABC
Designated Survivor
Tom Kirkman (Kiefer Sutherland), a low level cabinet member, is suddenly made President of the United States after a devastating attack on the Capitol during the State of the Union Address. The show follows him trying to restore order to his country and find the ones responsible for the attack. Having already received critical praise, Designated Survivor is destined to be a hit. Many people are awaiting this show, especially with such a talented lead actor.
Conviction
A young attorney (Hayley Atwell) is blackmailed to head the new Conviction Integrity Unit. She and her colleagues investigate cases where it is believed that someone was wrongly convicted. The lead actress is good, but the lack of originality may ruin this show. With a fairly unknown director, Liz Friedlander, known mostly for directing music videos, the quality of this show cannot be predicted.
American Housewife
Staring Mike and Molly's Katy Mixon, this comedy follows a flawed mother and her children as they raise their family in the "perfect" town of Westport, Connecticut. Despite its unoriginal concept, the lead actress is funny, so the show has some comedic potential.
Imaginary Mary
Staring Jenna Elfman, Imaginary Mary is an odd show about a single woman who meets the love of her life, a divorced man with three kids. This causes her CG animated imaginary friend she made when she was a child to appear back in her life to help her adjust to being with a family. This show certainly is unique, with the blending CG animation and live action, so that may redeem it from any minor problems it may have.
Notorious
Notorious has been described as a show that shows the dangerous, sexy, and provocative relationship between the law and the media. It is based on the life the defense attorney Mark Gregaros and the news producer Wendy Walker. Not much else is known about the show, but the show seems aimed towards a more mature audience than other shows.
Speechless
Speechless follows the DiMeo family and their teenage son with cerebral palsy. The show has been moving up for weeks on IMDB's popularity charts, and is expected to have many viewers by its first episode. Advertised as a comedy, viewers can only hope it delivers on its promise of heartwarming fun.
Time after Time
Based on the Karl Alexander novel and the movie by the same name, Time after Time follows HG Wells (Freddie Stroma) as he travels through time to modern day New York in pursuit of  Jack the Ripper. This show has the ability to be good, but its outlandish premise may alienate some viewers. This may end up being the best show of 2016 however, so keeping an eye on it is recommended.