Urbana Student Flies Plane Solo
Youssef Selim Has His Pilot Certificate at 16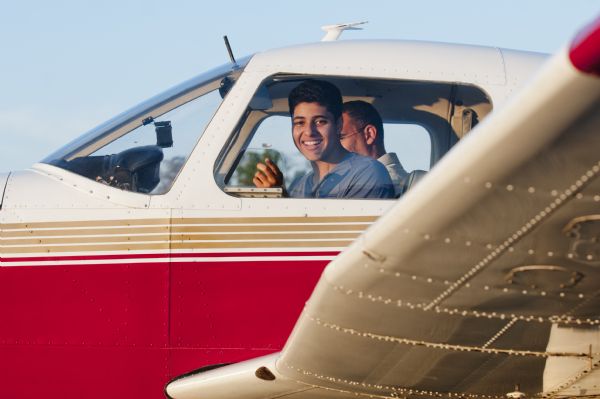 On September 30, 2013, Urbana High School junior Youssef Selim did something most of us would be too terrified to even consider – he flew an airplane, with no instructor or any other adult to guide him through the flight.
Selim's airplane of choice is a Piper Warrior, which he usually uses when he practices flights. "I've just always loved flying airplanes," he said. He described his first flight as "breathtaking," and said, "I was really excited. It was an amazing moment."
Outside of school, Selim takes lessons at Gaithersburg Air Park. He practices whenever he can make room in his busy schedule. Between activities like high school football and homework from IB classes, he usually manages to get in some practice time about once a week.
Even though he is very young to be flying, Selim has had a lot of background in the subject. He started flying when he was twelve years old, taking lessons at Frederick Flight Center Inc. He said, "I enjoy lessons because it's just what I've always wanted to do since I was a little kid. It's my dream."
Selim plans to continue flying in the future. When asked if he wants to pursue this hobby later as a career, he said, "Oh, definitely, for sure. I want to be a commercial pilot."
On his 16th birthday, Selim took a huge step towards that goal. He earned his Student Pilot Certificate, which allows him to fly solo within 25 nautical miles of the airport where he practices. The certificate will give him a lot more freedom in the things he is permitted to do while training, but there are still certain rules to follow. For example, he is still not able to take passengers, or fly alone at night.
To receive this certificate, Selim had to first pass a written exam. Additionally, he had to fly an airplane for two landings with his instructor by his side, and then for another two all by himself. Other qualifications include that he had to be 16 years old, fluent in English, and able to pass a physical exam that made sure he was ready to fly.
Selim is one of the youngest people to fly solo in the area. "I guess it's pretty cool, but I don't really mind it. I just want to be a pilot," he said about his achievement.
Selim has his mind set on this goal, and will continue working towards it. Things like his first solo flight are important milestones on the way to his dream of becoming a commercial pilot.