UHS Welcomes Nine New Hawks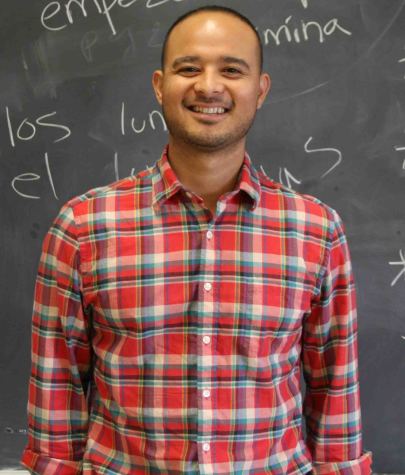 Almost every year Urbana High School welcomes new teachers to its halls, bringing new perspectives, teaching methods and personalities to our school.
Steve Howard teaches Foundations of Technology, Entrepreneurship, and Microsoft Certification. He has been teaching for six years and previously taught at St. Maria Gorgetti High and the Banner School. He loves sharing experiences and helping students explore diverse issues, and aims to help students achieve their best. Howard is also a certified personal trainer and swim coach.
Luis Gonzalez has been teaching since 1988, starting in Columbia, then Chile, and finally the U.S. He has been teaching Spanish to Middle School and High School students for the past eight years at various schools in Virginia and Maryland. He previously taught Psychology but now teaches Spanish 3 and IB Spanish. He is very excited to have the opportunity to teach higher level courses, and looks forward to helping his students become confident in speaking his language. In his free time he sings, plays guitar, and climbs snowcapped volcanoes in South America every two to three years.
Hector Ayerdiz has been teaching for nine years and has taught at Tuscarora High, Windsor Knolls Middle School and at Baltimore County Schools. He teaches Spanish 1 and 2 and loves to see students learn new things in his classes. Ayerdiz taught music in Baltimore and is a musician currently pursuing a Masters in Orchestral Conducting.
Rebecca Horowitz is an ICP Merit and Chemistry Honors teacher, and has been teaching for four years. She loves to share her passion for science and help students discover their own enthusiasm for science as well. She previously taught in Howard County and Somerset County, but likes Urbana for the respect teachers and students have for each other.
Melissa Chang hopes to pass her love of science on to her students here at Urbana. She likes UHS for its excellent students and staff and currently teaches Advanced Placement Chemistry along with Chemistry 1 Honors. Before coming to Urbana High School she taught in colleges and private schools for eleven years.
Coach Dave Mencarini is a Strength Training and Team Sports teacher and has been teaching for eighteen years. He has taught a large variety of classes, including middle school math courses, Physical Education, Accounting and Career Preparation. Mencarini coached football for seventeen years in Montgomery County, and is now coaching the Hawks.
Joanna Spangler and Colleen Ganley are also new to the staff.