Mini- Thon Scores Big for the Kids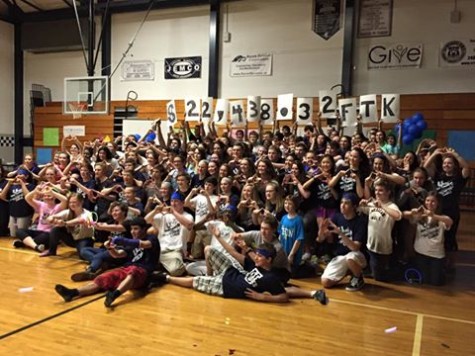 The second annual Urbana High School Mini-Thon is just a few short months away. Mini-Thon will be held on Saturday March 12th, 2016, from 5pm to 11pm. Advisors Stephen Ward and Matthew Ferrante, along with over two hundred club members are working hard to make this year's event an enormous success.
In March of 2015, Urbana High School held the first ever Mini-Thon in the state of Maryland. The year-long planning process began in the spring of 2014 when former student, Jacob Mittereder presented the idea of holding a Mini-Thon to social studies teacher Matthew Ferrante.
"I am a Penn State alum, so I was familiar with THON. I told Jacob that if he made a presentation he could present it to an administrator for consideration," said Ferrante. "At the time Mr. Ward and I were looking for a way to increase school spirit, and what better way to increase sprit than through charity," said Ferrante.
After meeting with assistant principal Michael Chavez, Mittereder and Ferrante received approval for Mini-Thon and the planning began. Mittereder along with Rachel Rosenfeld, Jake Lutz, and Sabrina Sorace took on key leadership roles within the newly formed Mini-Thon club.
From spring of 2014 up until the dance, students worked hard planning and fundraising, all in preparation for the main event. This included a trip up to State College, Pennsylvania over the summer for a Mini-Thon Leadership Summit.
"Each summer we've taken students up to Penn State where we get to work alongside other Mini-Thon schools and learn how to run a Mini-Thon," said Ferrante.
When the big day finally arrived, there were over 160 dancers participating. "The dance was a lot of fun," said Finance Committee Chair, Tommy Walters. "Every hour something new was going on. The different activities kept us on our feet." At the end of the event it was announced that $22,438.32 was raised for the Four Diamonds fund.
The Four Diamonds fund was founded in 1972 by Irma and Charles Millard, parents of former pediatric cancer patient, Christopher Millard. Before losing his battle with cancer, Millard wrote a short story featuring a great knight who looked to conquer the evil sorceress of cancer by obtaining the four diamonds: courage, wisdom, strength and honesty. Millard's family founded Four Diamonds as a way to assist the children and families affected by childhood cancer.
Last year Penn State's THON raised $13,026,653.23 for the Four Diamonds fund and Mini-Thons all over the country raised nearly $4,000,000. This year, Urbana High School is looking to have an even greater contribution by setting their fundraising goal at $25,000.
This year there will be multiple fundraising events held leading up to the Mini-Thon dance in March. "We held a car wash in August, and we have a 5K Color Run planned for December 12th," said Walters. The car wash raised $1,600 and the FTKolor Run is expected to have an even greater turnout. "The registration fee for the run will be $30 and all of the proceeds will go directly to the Four Diamonds fund," said Ferrante.
Along with the major fundraisers like the car wash and FTKolor Run, there will also be smaller events held throughout the schoolyear. Jay Kulkarni and Tommy Walters are expected to hold their second annual ping pong tournament later in the year along with other sports tournaments.
The dance in March is a culmination and celebration of all of the hard work that students have put in in the past year. "It's rewarding to be involved in something like this," said Walters.
"Cancer affects us all," said Ferrante. "These students are getting involved in something bigger than themselves. Every minute they spend, and every dollar they give is saving lives."