Head Hawk Leaves Nest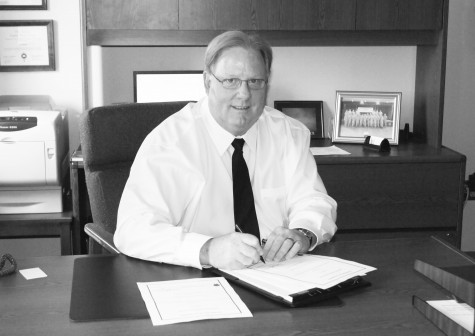 After forty-two years as an educator, Urbana High School principal Jay Berno will be retiring on January 29th. Berno has spent the past four decades working in six different Frederick County Public Schools.
Berno's desire to become an educator did not arise until his time in college, when he attended Southern Illinois University on a swimming scholarship. The biggest influence on his career was his swim coach who later went on to be a Harvard professor.
After graduating from Southern Illinois, Berno landed his first job in Frederick County running the Transient Adjustment Problems Class at the Rock Creek School. Berno later moved to Frederick High School where he taught for thirteen years and went on to become the assistant principal. Following his assistant principal job at Frederick, he was the principal at Walkersville, Tuscarora, and Middletown High Schools before beginning at Urbana High School in the fall of 2012.
Apart from the student meetings and staff observations planned in Berno's daily schedule, every day at Urbana is different. As the day goes on many unexpected phone calls and meetings get added to Berno's agenda. "It's kind of like an emergency room, where you never know. You write stuff down and put it in your book and then it just happens," said Berno.
Berno's impact on the school in the past three and a half years can be seen in the improvements he has made to the school facilities and safety procedures. "Your safety is the most important thing to me, and when I came here there was really no security in the building," said Berno. In the past three years major improvements have been made to safety procedures as well as building features. In the summer of 2014 a new main entrance was constructed putting a new emphasis on the safety of students.
Berno's second priority was acquiring cost heavy items that the school had been seeking. "When I come into a school I want to make it a better place than when I got there. What I tried to understand here was what the high ticket items were that the school needed," said Berno. The number one high ticket item Berno found that the school needed was new curtains for the auditorium. Along with the curtains, Berno budgeted for new band uniforms which he was able to get last year. "Unless you budget and plan for them (high ticket items) it's not going to happen," said Berno.
Berno's impact at Urbana can be seen far beyond his improvements to the facilities and schoolwide procedures. Coming in to the school in 2012, Berno said his main priority was to "maintain the climate of excellence at Urbana." Over the next three years Berno would continue to lead the school to success. In 2015, Urbana High School made Newsweek's list of "America's Top High Schools." Urbana has also found itself as the number one or number two school for every category in PARCC testing scores for 2015. "It's getting tougher and tougher, and yet we still maintain the excellence here," said Berno.
After fourty-two years Berno's last day as an educator will be January 29th. Just two days after his retirement, Berno said he plans on going to Punxsutawney, Pennsylvania, for Groundhog Day as well as visiting the United Airlines Flight 93 crash site memorial in Shanksville, Pennsylvania. This visit to Shanksville will begin his mission to visit all of the United States National Parks. "There are four-hundred plus national parks and historic sites in the United States, and I'm going to every one," said Berno.
Urbana High School sends our best wishes with this hawk as he flies away from the nest.