Successful Succession Chavez Moves to Principal's Office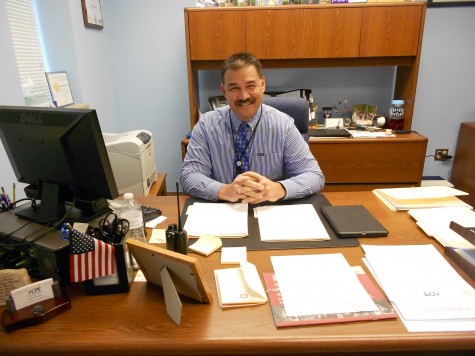 Following the retirement of Principal Jay Berno on January 29th, Urbana High School welcomed Michael Chavez as Acting Principal for the remainder of the 2015-2016 school year. Chavez is no stranger to the Urbana hallways, as he has been our Assistant Principal since 2010.
Berno made the decision to retire halfway through this academic year in order to give Chavez a chance to work as an Acting Principal for the remainder of the year. "I want to give Mr. Chavez, one of the greatest guys in the world, an opportunity to test the waters of principalship before he really puts himself in that role," said Berno. Berno's idea of "successful succession" is allowing Chavez, as well as Ms. Helen Golibart and Ms. Jessica McBroom to step up into new roles within the school and give them an opportunity to "test the waters" of these various roles.
Chavez is now in his sixth year as an administrator at Urbana, after being transferred from Thomas Johnson High School. Chavez grew up in Frederick County and graduated from Linganore High School in 1982. He went on to continue his academic career at Western Maryland College (now called McDaniel College) where he pursued a degree in business. After beginning a career in sales, Chavez soon returned to Linganore to coach part time and in order to do so he became a substitute teacher.
After a few years as a full-time substitute teacher, Chavez returned to school to receive his certification in education in order to become a full-time teacher. In his first year he was a business, math, and strength training teacher. He transitioned out of the classroom and into student support, but was still seeking something different. "I needed another challenge. For me it's always about that next challenge. When the opportunity came up to get into the administrator pool, I went to TJ High School as an Assistant Principal," said Chavez.
After 12 years at TJ, Chavez was transferred to Urbana High School where he has spent the past five years. Although Chavez's title as Principal is only guaranteed until the end of this academic year, he hopes that his title will last longer than a semester. "My plan is to continue to be the principal of Urbana High School until someone tells me I can't be," said Chavez.
One of the most prominent changes Chavez has made in his first month as Acting Principal is his emphasis on The Core Four: respect, unity, integrity, and pride. In the beginning of the school year, Chavez and his fellow members on the School Culture Committee wanted to address these four values, both inside and outside of the classroom.
The Core Four emphasizes the importance of proudly representing Urbana in the classroom, on the court, on stage, or in the community. "When you put the U on or the blue on, it's a great responsibility to understand that you're representing the rest of your classmates, you're representing your teachers, and you're representing your parents," said Chavez.
During the week of Homecoming, the Lip Dub was just one way that Urbana students and staff have come together this year to showcase The Core Four in action."The Lip Dub was an opportunity for every student to be involved in some way… I've watched it 15 to 20 times, and everytime I watch it I see something different. It was one activity for the whole school," said Chavez.
Throughout the next semester, and hopefully the next few years, Chavez hopes to maintain the level of excellence, and increase the level of pride within the school. "I think we are unified as it is, but we still have some areas where we are disjointed, so [I want to] bring that together and bring it back so that every single student has pride in the school," said Chavez.