FFA Participates in National Convention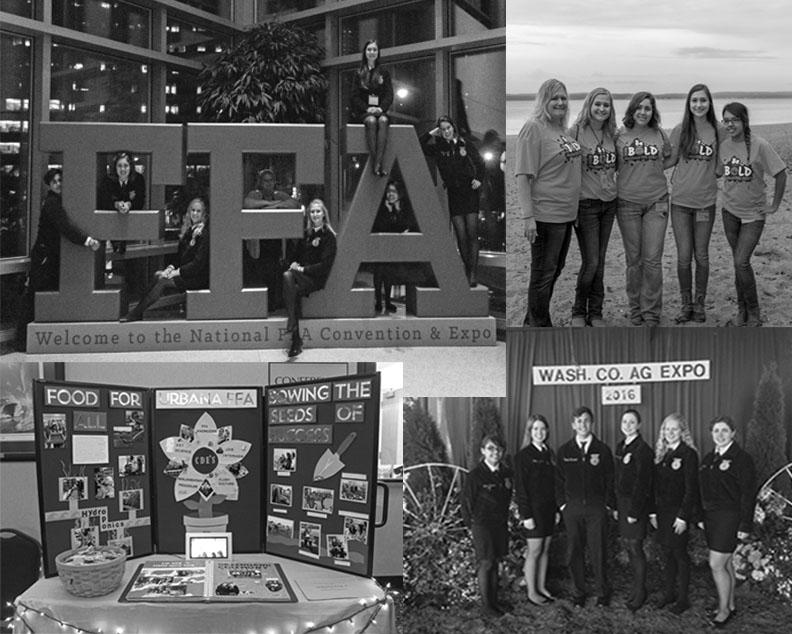 Emma Ridgway
The Future Farmers of America Urbana Chapter, lead by teacher and advisor Tonjia Mayne, participated in the National FFA Convention in Indianapolis, Indiana, from October 18th-22nd. During the Maryland State FFA Convention in June, Urbana's poultry judging team, consisting of Emma Ridgway, Kaleigh Gammons, Emily Pearson, and Jacob Ridgway, and the Hall of States team, Rachel Angell and Adelia Chandan, won first place, allowing these teams to attend the National Convention.  
 At the National Convention, the poultry judging team placed bronze overall while Emma Ridgway placed silver individually and Gammons, Pearson, and Jacob Ridgway all placed bronze individually.
 Senior Brooke Hersey, Urbana's FFA Sentinel, stated that at the National FFA Convention, every state "from Maine to Hawaii" and even Puerto Rico attended. Senior Emma Ridgway, Urbana's FFA Vice President, added that "there will be thousands of people there… we'll be talking to people from Montana, Iowa, California, and you know, usually you'd never get to meet them."
 Each team practiced to make sure they knew the information for their individual competition. The poultry judging team practiced anything that could be on the written test, including the identification of parts, judging the actual chickens themselves, and especially the study of turkeys, which wasn't on the state level competition.
  Ridgway said, "There are a lot of speaking competitions and just agricultural competitions in general. There is land judging, horse judging, and even a tractor driving contest."
 As for Hall of States, Ridgway stated that they made "a display board that will represent their state as a whole." The reason that Urbana's FFA chapter is representing Maryland at the National convention is because they previously went to the Maryland State Convention and won Hall of Chapters. Ridgway adds, "Since we won, now we have to represent Maryland, not just Urbana, at the National Convention."
 Urbana's FFA chapter has been soaring this year, however not many people even know what FFA truly is. FFA is a community organization that "makes a positive difference in the lives of students by developing their potential for premier leadership, personal growth and career success through agricultural education," according to FFA.org.
 Last year, Urbana's FFA chapter won a grant of $2500. With that money, they created a hydroponic garden in the high school's greenhouse, growing food for the local food bank.  
 More recently, the officers of Urbana's chapter attended COLT, a Chapter Officer Leadership Training. Ridgway said, "All chapter officers in Maryland are supposed to attend. We participated in leadership workshops, a 360 conference, and adventure challenges, such as rock climbing, giant swing and zip line." The COLT conference was held by the Maryland State FFA Association at North Bay Adventure Center.
 With all that FFA participates in, it's no surprise that Hersey said that FFA "engulfs her whole life". Along with her fellow officers, she tends the garden and maintains the greenhouse after school, organizes FFA matters during school when in Mayne's class, and even stops by fourth block to further involve herself.
 The officers and members of FFA participate in competitions, volunteer around the community, host fundraisers, and yet some feel underappreciated.
 Ridgway said, "I think that a lot of people look down on us just because they think we're just farmers, but there's a lot more to us… a lot of people just kind of scoff and us and don't really give us a chance. But there's a lot to be learned from FFA. If you try it you might actually like it."