Here's what you need to know about the 4 NFL teams heading into Championship Sunday. 
 The San Francisco 49ers will play the Philadelphia Eagles on Sunday January 29th at 3:00 ET on FOX at Lincoln financial field. While in the AFC the Cincinnati Bengals will take on the Kansas City Chiefs Also on Sunday January 29th at 6:30 ET on CBS.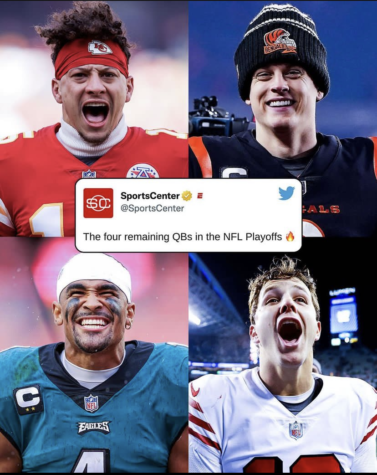 NFC
San Francisco 49ers 
The 49ers are led by Mr. Irrelevant Brock Purdy, who was drafted out of Iowa State in the 7th round. He has become a star in San Francisco as he is 6-0 as a starter and has posted a 13:4 touchdown and interception ratio while throwing for 1,374 yards with a total QBR of 65.5. However, Purdy is not the only star on the offense as they have one of the best tight ends in football, George Kittle, and one of the most explosive players in football, Deebo Samuel. They also have Brandon Aiyuk, who led the team in receiving yards with 1,015, and Christian McCaffrey, who got traded from the South Carolina panthers in the middle of October. But that's just on the offensive side. On the defensive side, they have studs including Nick Bosa, who has 18.5 sacks and 19 TFL (tackles for loss). Two very explosive linebackers, Fred Warner and Dre Greenlaw, led the team with 130 and 127 tackles respectively. And Tashaun Gipson Sr is tied 5th in the league with 5 interceptions. All the studs on the defense can only mean one thing: the number 1 defense in the league only allowing 16.3 points per game. (https://www.espn.com/nfl/team/_/name/kc/kansas-city-chiefs)
Philadelphia Eagles 
The eagles are led by Nick Sirianni who is in his second year of coaching the eagles.  MVP candidate Jalen Hurts is at the helm of the offense  and he is surrounded by a good wide receiving core and dynamic running backs. Hurts is putting up MVP like numbers as he has posted a 22:6 touchdown & interception ratio while also rushing for 13 touchdowns The eagles Wide receiving core has not 1 but two wide receivers who passed over 1,000 yards and they are AJ brown with 1,496 yard and former heisman trophy winner Devonta smith with 1,196 yards however they also have a 1,000 yard rusher in Miles sander who was drafted out of Penn State. Their offense ranks 9th in pass yards with 241.5 yards and 5th in the rushing game 147.6 . They are almost scoring 30 points a game and their defense is stout with allowing 20.2 points per game. Speaking of their defense one of the ways the eagles get it done is sacks,sacks and more sacks with Haason Reddick leading the team with 16 sacks and T.J edwards leads the team with 159 tackles. They also have a stud corner back in C.J Gardner Johnson who is tied for 1st in the league with 6 interceptions.  As stated by https://www.espn.com/nfl/team/_/name/phi/philadelphia-eagles. 
NFC championship prediction: This game has a lot of firepower and there are studs everywhere.I asked Die hard eagles fan  Nolan Waters on what the eagles need to do to win. And he said "Eagles Defense needs to be insanely aggressive and sack purdy. Also the cornerbacks need to take the ball away rather than just focusing on the completion". Honestly if the eagles do that they should win the game. But I don't think they are gonna win the game as the 49ers have too much firepower and I just think the 49ers run the rock with Mcaffrey. When asked if 49ers fans should be nervous about the game he said "no because our defense should lock down hurts," says senior Bradley Capino "and we faced the number 5 rush defense while the eagles are number 21 in rush defense so it's obvious we should hand the ball off to Mccaffery". I do believe this game will be close and the 49ers win by a touchdown. 
AFC
Cincinnati Bengals 
The Bengals are looking to head to their 2nd super bowl in a row,led by head coach Zac Taylor who is in his 3rd year coaching.The bengals went 12-4 and won the AFC north crown Their QB is Joe Burrow who posted a 35:12 touchdown and interception ratio to go along with 4,475 yards good enough for burrow to be in the MVP conversation. However he has taken a league leading 41 sacks which is worst in the League. Even though the offensive line was addressed in the offseason. On the bright side they do have two 1,000 yard receivers in Ja'Marr Chase with 1,046 yards and Tee Higgins with 1,029. Good enough for 5th in the league with 265.0 yards per game. What is concerning is that they are almost last in the league with rushing yards with 95.5 yards per game.overall the bengals are 7th in the league with total offense with 26.1 points per game. On the defensive side of the ball Logan Wilson leads the team in tackles with 123 while they have two safeties in Vonn Bell and Jessie Bates with 4 interceptions.while Trey Hendrickson leads the team in sacks with 8. And they are 6th with 20.1 points allowed per game. As reported by https://www.espn.com/nfl/team/_/name/cin/cincinnati-bengals. 
Kansas City Chiefs 
Kansas City Are going to their fifth straight AFC championship game in a row. Led by Head coach mastermind Andy reid and MVP Hopeful Patrick Mahomes who posted a 41:12 touchdown & interception ratio to go along with 5,250 passing yards that's good enough for the number 1 passing attack in the league 297.8..Mahomes could not have done it without the best tight end in the league in Travis Kelce who was a 1,000 yard receiver with 1,338 to go along with 12 touchdowns. JuJu smith-schuster who came over from pittsburgh last offseason had 933 yard but he reached the end zone only 3 times this season. As for rushing 7th round pick Isiah Pacheco has been a standout,rushing for 830 yards and 5 TDs  . on the defensive side of the ball Linebacker  Nick Bolton has been an absolute Stud for the Chiefs acquiring a team leading 180 tackles, while Defensive tackle Chris tackle has led the team with 15.5 sacks and Juan Thronhill leads the team in interceptions with 3. The Chiefs defense ranks in the middle of the league with 21.7 scored against them. In an agreement with https://www.espn.com/nfl/team/_/name/kc/kansas-city-chiefs 
AFC championship prediction: I believe this game will be an absolute shootout as both offenses are high powered who are lead by MVP candidates QBs and great receivers. However both Defenses are average and are decent. So I think there will be lots of scoring on the offensive side of the ball.  When asked on why the he believes that the bengals will win Junior Christian Whitehead said "He said yes because the Bengals have a lot more firepower and that's gonna put the chiefs Defense on their heels a lot" I'm gonna have to agree with Christian on this one the chiefs D lacks the components to compete with the Bengals offense. Bengals win a close one.