NCAA March Madness Favorites: Drama Awaits
After the Super Bowl, we as a sports community will no longer have any exciting sporting events to watch.
But we do.
With February coming to a close, the magical door of March Madness opens. The question now is, who are the favorites to throw all of your life savings on? Will they be impactful? Who is the best team to follow? Who are the dark horses? Who will the faces of march madness be? And who will be victorious in April?
Honorable Mentions: UCLA Bruins, Kansas State Wildcats
(Side note: +### are betting odds; +1000 means if they win the money put on the team will dectuple. For example, $10 pays $100, $5 pays $50 and you get money back originally put on a bet. 10+100=$110 payout, $5 +50= $55 payout).
---
Houston Cougars (+600)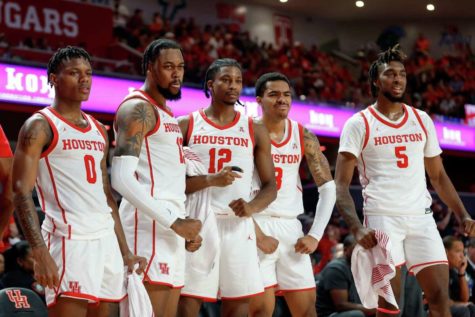 The Houston Cougars seemed to be one of the clear favorites, but following their loss to the unranked Temple Owls they have fallen from this rank. Houston runs a small ball lineup with their 5 most played players are all 6'8 or shorter. The Cougars are led by their trio of guards in Jamal Shead, Marcus Sasser and Tramon Mark. 
One of Houston's strengths is definitely ball control as they are 6th in the country in turnover percentage. Despite this their biggest strength has to be their defense as they rank 2nd in the country in points allowed per game. Like the guard trio, the '3 Forward J's' of Ja'vier Francis, Jarace Walker and J'Wan Roberts are all equally as valuable to the team. Together they lead the team in Blocks, field goal percentage and they are the 3 leading rebounders of the team. 
Now all of these stats seem intriguing but are they playing serious competition? Who have they beaten to be seriously considered the 'early favorite'? Well they haven't played much competition as one of their only games against a competent team resulted in a 6 point loss to the Alabama Crimson Tide. However they beat the 7th ranked Virginia Cavaliers. Overall there are a lot of Houston doubters currently but whoever they are playing, they are either blowing them out, or it's a nailbiter.
---
Alabama Crimson Tide (+1000)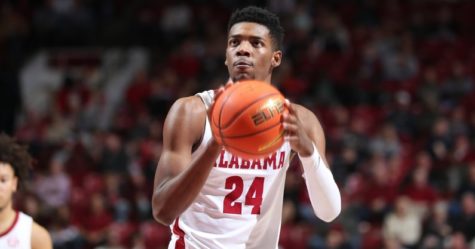 Alabama is debatably the hottest and best team in college basketball currently. Led by star forward and a top 3 NBA draft prospect Brandon Miller (pictured above), who currently averages 20 points per game, 8 rebounds per game and shoots nearly 50% from the field and from 3 point range! Miller's 3 point percentage is ranked 9th in the country currently. 
The Crimson Tide are currently 17-2 with a current ranking of 2nd in the nation! What makes Alabama a threat is their tempo. The Crimson Tide are one of the higher scoring teams on the fastbreak. They're also a very fundamentally sound defensive team with being top 15 in the nation in blocks per game, as well as leading the country in defensive rebounds per game. Additionally being top 10 in offensive rebounds per game. 
Alabama is amazing at drawing contact with having the 3rd most average free throws attempted per game. They are highly regarded by basketball experts as Hall of Fame NBA player and current basketball analyst Charles Barkley says "Alabama's the best team in the country, and that's painful for me to say". However after being humiliated by an unranked Oklahoma Sooner team in a 24 point loss, most might not agree with that claim. Alabama has some important games coming up against Tennessee and Auburn. They have started their roll again with a commanding 101-44 win over Vanderbilt. Can Alabama pull through and truly roll tide?
---
Purdue Boilermakers (+1000)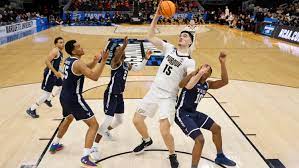 Not much to say about this team, but Purdue is a legitimate threat this year. They have just recently risen to the #1 team in the nation overtaking Alabama and Houston. The Boilermakers are led by their star 7 '4 Junior Center Zach Edey who is currently averaging 21.5 points per game (10th in country)and 13.5 rebounds per game(2nd in country). Edey also leads the team in shot percentage, making 61.4% of his shots. 
Edey is really the main piece of this Purdue team but Freshman guards Fletcher Loyer and Braden Smith have been solid as well, averaging 12.5 and 9.9 points respectively as well as 36%+ 3PT%.  While Zach Edey is great and the star of their team, nobody on the rest of their team is at that tier. However the whole squad is solid as they have quality bench depth. Zach Edey plus phenomenal 3 point shooting, plus quality bench depth, equals a serious title contender.
---
Kansas Jayhawks (+1200)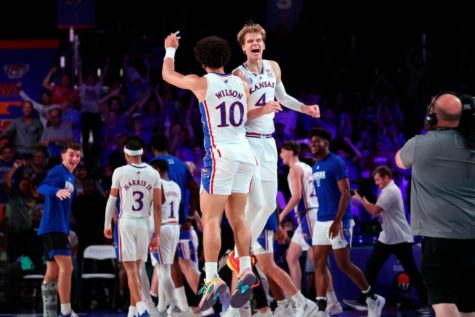 Will they repeat? The Kansas Jayhawks are preparing to defend their title as the March Madness champion. Led by NBA prospect forward Jalen Wilson, the Jayhawks are very much in the hunt. Wilson is currently leading the team with 21 points per game and 9 rebounds per game. Alongside Crimson Tide Star Brandon Miller, Wilson is considered the best player in college basketball.
 Kansas always is able to develop this great talent due to Head Coach Bill Self(pictured below). Self has a track record of winning basketball. He coached at the Universities of Tulsa and Illinois where he led each of them to 70+ wins over 3 seasons winning an average 3 of every 4 games played. To do that with 2 different weaker schools is impressive. Something else to note is that under Self, Kansas has had 48 Academic All-Big 12 honorees. He makes sure the players get the job done on the court and in the classroom.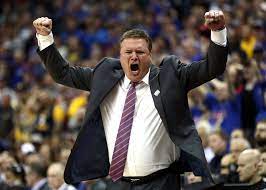 Self has helped develop Wilson's counterpart freshman guard Gradey Dick. Like Wilson Dick is also an NBA draft prospect this year projected to be drafted early in the second round. While Dick doesn't put up the craziest statlines, he is a consistent shooter from all over the floor and makes 17 of every 20 free throws he shoots. After early season struggles many doubted Kansas as it was believed they wouldn't be title contenders.  Playing close to many unranked teams and losing to a 15th ranked TCU by 23 showed some doubt. But they were able to get revenge on their biggest rival and a 7th ranked Kansas State to show that they are still a threat to repeat.
---
Tennessee Volunteers (+1200)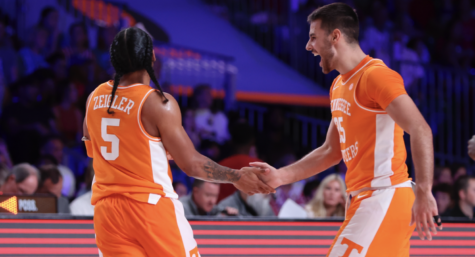 Like Houston the Volunteers' biggest strength is their defense, rivaling them for scoring the top scoring defense. Tennessee's offense however is average as their 4 best players average around 10 points a game, 4 rebounds a game and shoot around 40%. This type of offensive play is not ideal but because their defense, specifically their perimeter is dominant. The stat sheets don't stand out but the play does leading them to be ranked as the #2 ranked team in the country currently. However an unranked Florida team was able to beat them which just like Alabama-Oklahoma, isn't the end of the world. Once again they only allowed 67 points in this matchup but were only able to score 54. If coach Rick Barnes can find a way to jumpstart this offense who doesn't really have a superstar player, then Tennessee might be a serious contender in a few months.
---
Gonzaga Bulldogs (+3000)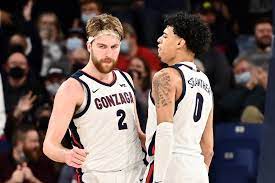 A 7,000 student school in eastern Washington has been a yearly powerhouse in college basketball.  Led by what seems like the ageless wonder in Senior Forward Drew Timme, along with Junior Guard Julian Strawther. Timme is the clear backbone of this team as he leads the team in most statistical categories including points per game, rebounds per game and 2nd  assists per game. Gonzaga as a whole, leads all of collegiate basketball with Points per game with 86.3! The Bulldogs were able to beat the widely consensus best team in the Alabama Crimson Tide.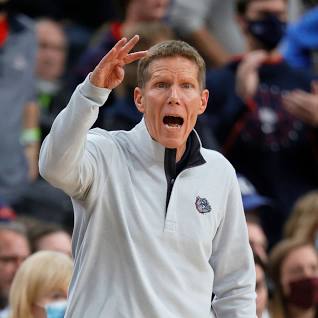 While overall they are definitely not as strong of a competitor this year; as their talent has moved on to professional leagues; but you can never count out this yearly competitive Bulldogs team led by head coach Mark Few. Coach Few has been able to develop loads of NBA talent through his time at Gonzaga and has the title for most winningest active coach in his 23 year run with a winning percentage of 83.6%! Few is the sole catalyst in the rise of the small schools basketball success and he is the reason why Gonzaga is remotely competitive every year. With smarts like that at the helm the Bulldogs may very easily emerge as the favorite late into March. 
---
Sources:
https://www.espn.com/mens-college-basketball/team/roster/_/id/2250
https://www.espn.com/mens-college-basketball/team/stats/_/id/2509
https://www.espn.com/mens-college-basketball/team/stats/_/id/333
https://www.ncaa.com/stats/basketball-men/d1/current/team/857
https://www.ncaa.com/stats/basketball-men/d1/current/individual/136
https://gozags.com/sports/mens-basketball/roster/coaches/mark-few/562
https://www.al.com/alabamabasketball/2023/01/charles-barkley-alabamas-the-best-team-in-the-country-and-thats-painful-for-me-to-say.html
https://www.hammerandrails.com/2022/11/8/23447132/3-strengths-3-weaknesses-keys-in-2022-2023-for-purdue-mens-basketballhttps://kuathletics.com/coach/bill-self/
https://www.houstonchronicle.com/texas-sports-nation/college/article/Houston-Cougars-basketball-AP-ranking-17601120.php
https://www.si.com/nba/draft/prospect-profiles/nba-draft-scouting-report-alabamas-brandon-miller
https://localtoday.news/mo/kansas-jalen-wilson-gradey-dick-present-obstacles-kentuckys-defense-previously-failed-at-the-hurdle-129015.html
https://www.jconline.com/story/sports/college/purdue/basketball/2022/06/18/purdue-basketball-zach-edey-nba-draft-matt-painter/7650245001/
https://bustingbrackets.com/2022/05/29/gonzaga-basketball-massive-48-hours-looming-bulldogs-program/